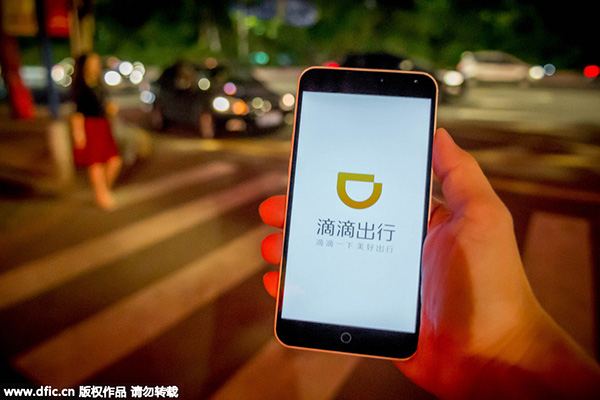 Didi Chuxing, a car-booking mobile app owned by Didi Kuaidi, is shown on a mobile phone, Sept 17, 2015. [Photo/IC]
People having mental illness and criminal records will not be hired as car-hailing drivers, according to a new standard issued by a leading company and an industry association.
Car-hailing platform Didi Chuxing and the Share Economy Committee of the Internet Society of China released the first rules spelling out people banned from becoming online car-hailing drivers on Monday.
Mentally ill patients and those with criminal records, such as charged with violent acts, actions that endanger public security, serious violation of laws, and traffic offences, are forbidden to register as online car-hailing drivers.
Various online car-hailing apps are providing more solution for transport and bringing more people into the shared economy. However, due to lack of supervision of drivers, some illegal cases have happened in the car-hailing industry.
On the evening of May 2, a 24-year-old female teacher in the southern city of Shenzhen hitched a ride back to school via a mobile car-hailing app. The driver took her to a remote place, and then robbed and killed her.
Sources from the app's company said the suspect was registered with real ID card, driving license and vehicle license but used falsified license plate on the day he carried out the crime.
The new standard is related to the background check system for hiring car-hailing drivers. The investigations will check the records and canvass opinions of well-known experts and scholars as well as relevant ministries.
Sources from Didi said the company will strictly follow the standard. When someone registers on the app and applies to be a driver, Didi will immediately check with public security organs.
Workers will check the national illegal crime information system, the information system for escaped criminals, the database for drug crime suspects, the public security traffic management platform, and the mental patients information system.
People whose names are in these systems will be prevented from becoming drivers on the Didi platform.
The new standard is believed to push forward China's efforts on establishing regulations that link illegal and criminal records to personal credit and professional access.