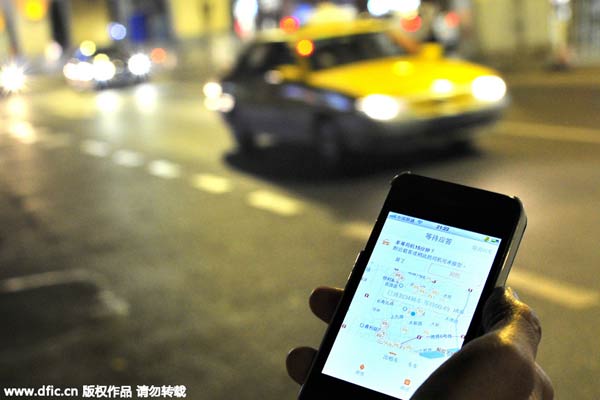 A man uses taxi-hailing app Didi Dache on his smartphone on a road in Guangzhou, South China's Guangdong province, April 9, 2015. [Photo/IC]
Competition between car-hailing companies Didi Chuxing and Uber China is white-hot at the moment, and some investors have said the two firms could ultimately have to join hands, The Wall Street Journal reported.
The two firms should stop fighting before the war costs $30 billion, managing director at GSR Ventures Allen Zhu (Zhu Xiaohu) said to The Wall Street Journal. He said he and several other Didi, UberChina and Uber global investors believed a merger might be possible if the two companies could agree on valuations and share structures.
Currently, the two car-hailing firms have raised more than $20 billion.
Didi Chuxing said it has raised $10.5 billion in disposable funds on Thursday. According to The Wall Street Journal, Uber has raised nearly $13 billion, and its Chinese affiliate Uber China also has itself raised some $1.2 billion.
The dueling fundraising between Didi Chuxing and Uber is like an arms race, an investor in Uber said. The Wall Street Journal cited the investor: "While the companies are lucky to have investors with deep pockets, a union between Didi and Uber China might be inevitable, especially given the broader trend toward consolidation in China's internet industry".
The merger talk is buzzing. But a spokeswoman for Didi says it has absolutely no plan to merge, and Uber China declined to comment on whether it might seek a merger with Didi.
Didi and Uber China both say they are getting closer to profitability. Didi says it is now profitable in more than 200 of the 400 cities where it operates, and expects to reach overall profitability "very soon." UberChina says it is spending 80 percent less per ride in China than it did a year ago and is "on the right track" to profitability.