More than half of job seekers 20 years and younger say their ideal job is to be an online celebrity, according to a new report.
About 54 percent of those born after 1995 said they hope to be an online celebrity and make money from performing on live-streaming sites, internet giant Tencent said in a report.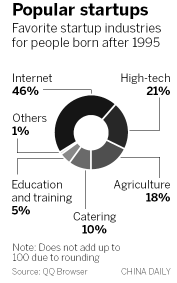 Other ideal jobs are doing voice-overs for cartoon characters, work as a cosmetician, a cosplay professional and computer game evaluator.
Han Xinrui is an online celebrity who makes her living interacting with her fans on live-streaming sites.
"The job is not easy. You have to be very patient," Han said. "For me, there is no office time like a white-collar job. I have to be there whenever my fans want to see me."
Feng Lijuan, a senior expert on human resources at Chinese job-finding platform 51job.com, said attitudes toward jobs have changed in the past decades.
"The new generation, especially those from first-tier cities, don't need a bread-and-butter job. Interest, freedom and feeling are the most important factors for them," Feng said. "Take a job at State-owned enterprises, for example: It has long been treated as a stable and promising job. But it also means step-by-step promotion, limited creativity in entry-level jobs and rigid rules within the company. Many young job-seekers don't want to work within that environment."
The booming internet economy has provided more creative jobs. According to CBNData, China has an estimated 1 million online celebrities, and the value of the online celebrity industry in 2016 is expected to reach 5.8 billion yuan ($890 million), larger than the 4.4 billion yuan box office for the Chinese movie industry last year.