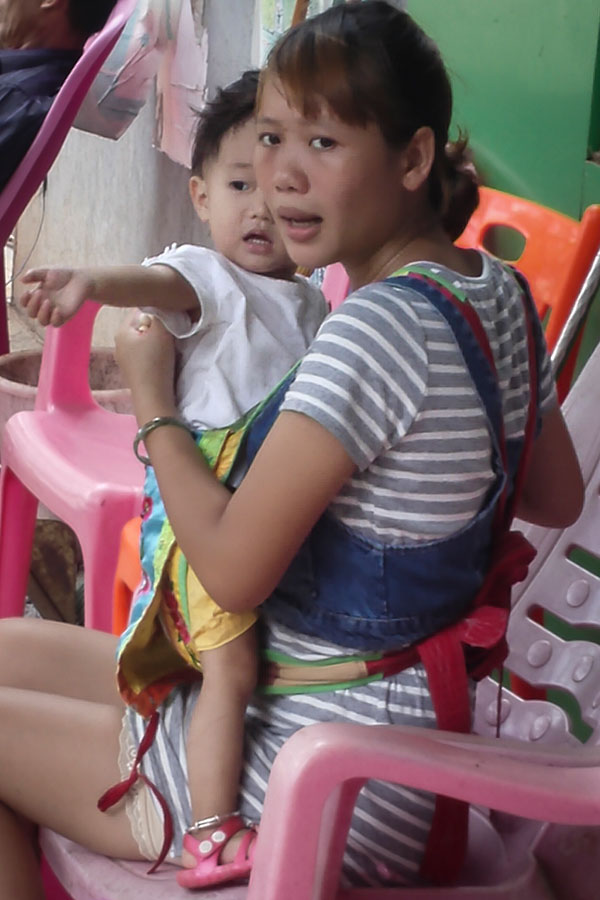 Teen mothers are a common sight in Lingao county, Hainan province. LI JINHONG/CHINA DAILY
Young sex not taboo for children of fishermen; pregnancy poses problems
Sixteen-year-old Pan Hong is expecting her second child. Five months pregnant, she spends most of her time watching TV while caring for her 2-year-old daughter.
"Eating, feeding the baby, watching TV, that's all I do every day," she says calming her crying baby with one hand while switching channels with the other.
Like other teenagers, Pan likes playing with her smartphone, watching Korean TV series and eating latiao, a spicy snack favored by kids. She lives in a fishing village on China's island province of Hainan. The new baby's father, who is 17, works as a fisherman with his own father every day. His mother, 40, stays at home with Pan and the toddler.
A pseudonym is being used to protect the pregnant teen's privacy.
In China, the legal age of marriage is 20 for a woman and 22 for a man. Yet teen parents such as Pan are not unusual in Hainan's Lingao county. According to the county hospital, 20 girls under 16 delivered babies during a 10-month period beginning in May 2015. That's an average of two to three per month. The youngest mother was only 13.
As underage marriage is illegal, there are no official statistics on the true size of the problem.
Fruit not forbidden
Pan and the young father of her child met at an internet cafe when she was 13, and a relationship soon developed.
As Pan tells it, underage sex is "no big deal". Many of her classmates "did it" already, she said. She dropped out of high school when she was three months pregnant.
"I was vomiting every day, I had no idea what was wrong until the doctors told me I was pregnant," she said, laughing.
Supported by her parents, she moved into the home of her boyfriend's family and the couple started their life together, albeit without any legal recognition of marriage.
Her father-in-law owns a boat and employs a dozen fishermen. The trade brings the family almost 10 times the local average per capita income-around 8,800 yuan ($1,300) a year.
"I'm pleased with my life, and I think I'm a good mother," she said.
According to Chen Jideng, principal of Xinying Township High School, underage sex is not rare, as children are often left at home alone when their parents are away fishing for long hours. The school has banned public displays of affection on campus, yet female students like Pan continue to drop out of school after becoming pregnant.
Many parents turn a blind eye, and some even expect their children to produce a grandchild as early as possible, Chen said. To secure an ideal daughter-in-law, parents are even known to wait at the school gate to identify a perfect match for their sons.
"If they see a girl they like, they will visit her family to talk about an engagement," Chen said, adding that many people consider a girl to be "leftover" if she is not married by the time she is 20.
"Others will get the best girls if we don't act fast," said one parent who was waiting outside the school.
Call for intervention
Wang Chenghui, deputy head of Diaolou Township Health Center, said childbirth at a young age not only harms the young mothers, but also increases risks for the babies. For example, teen mothers are more likely to experience hemorrhaging and difficult labor, he said.
Population control officials have tried education, but to no avail.
"What can we do about it once they are already pregnant?" asked an official at the county's population and family-planning bureau, who asked not to be named. "All we can do is fine them."
Xinying township generated more than 1.2 million yuan last year in fines collected from the teenage parents of 210 babies. All lacked marriage permits.
The official added that because they lack legal protection, many young couples separate before reaching marriage age, resulting in many single parents.
"Some find a new partner, while others just leave for the city and never come back," he said.
Liao Hui, head of the Hainan Lawyers' Association, said local officials were to blame for the number of underage mothers and the unregistered marriage-style relationships.
He called on the authorities to improve their education strategies to protect girls.
"Motherhood is too heavy a burden for such young shoulders," he said.
Deng Huaning of Xinhua contributed to this story.