Columbia graduate who chose motherhood over career, China over US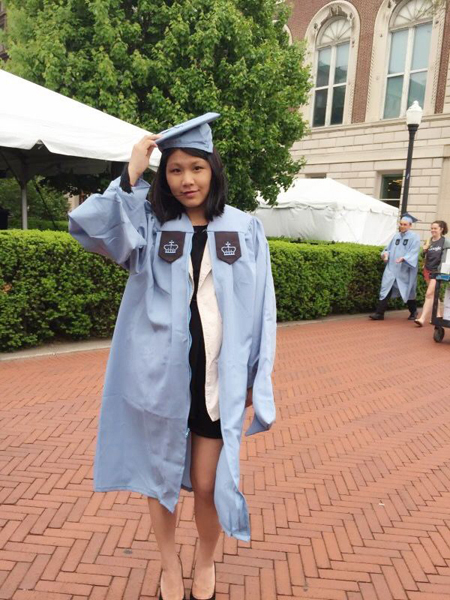 Hu Rujia at the graduation ceremony of Columbia University when she was seven-month pregnant in May 2015. [Photo provided to chinadaily.com.cn] 
Many overseas returnees come back with knowledge, ambition and a vision. Besides all these, a 24-year-old alumna of Columbia University arrived in Shanghai with another precious thing in life, her three-month-old son.
What's more unusual, at least in Chinese context, is that instead of finding a job in the finance sector like most of her peers, Hu Rujia decided to be stay-at-home mother.
From traditional Chinese perspective, a well-educated woman, especially someone who has graduated from a prestigious university, should not be a full-time housewife.
Even the word "housewife" in Chinese is mostly used in a negative sense.
But Hu views it differently, a change she calls the biggest mental transformation she experienced thanks to her stint abroad.
So why did Hu decided to come back to China? And how did the foreign education change her perspective on life, career and parenting?
Hu shares this and much more in an interview with chinadaily.com.cn.