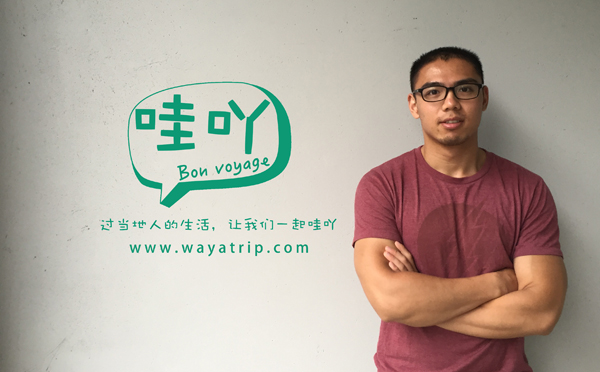 He Zhi stands in front of a wall printed with logo of his company, Wayatrip. [Photo provided to chinadaily.com.cn]
A quick tour of Paris landmarks ending with shopping at the Galeries Lafayette or a treasure hunting tour about Madame Curie with a well-designed itinerary and detailed introduction for tourists, which one takes less work and is easier for a travel agency or a tour guide?
The answer apparently is the former, but He Zhi, a 25-year-old returnee from France, chose the latter as his start-up business in Shanghai.
He's start-up, "Wayatrip", an online customer-to-customer (C2C) travel service provider, helps plan DIY tours and connects traveling buddies and city "treasure hunters". The Madame Curie tour, for instance, is one of specially designed routes which help tourists set up connections with Paris.
"We encourage our customers to travel as backpackers, and we even help them reduce expenses, such as choosing accommodation in hostels or vacation homes." He's long-term target is to change Chinese people's travel style from only sight-seeing to local life and culture experiencing.
A graduate in chemistry from prestigious ESPCI Paris Tech, the cradle for engineers and scientists, he decided to leave engineering and start a business after he fell in love with traveling upon graduation. With an initial fund of 150,000 yuan ($2,255) pooled together with two other partners, he started Wayatrip in the second half of 2015. In about six months, the team went online with a website.
During that period, they established the company in the enterprise incubation park for college students in Yangpu district of Shanghai with the help of Fudan University Entrepreneurship Foundation.
Meanwhile, they also successfully secured 100,000 yuan start-up loan from Shanghai Technology Entrepreneurship Foundation for Graduates.