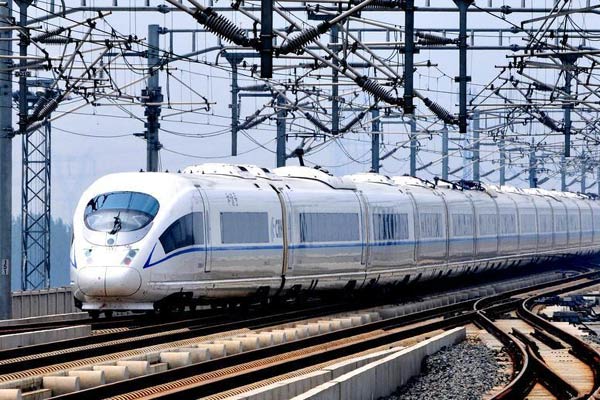 A CRH train that runs on the Beijing-Shanghai High-Speed Railway leaves Tianjin South Railway Station in North China's Tianjin, June 30, 2012. [Photo/Xinhua]
Nation also intends to transform high-speed rail industry into an economic driving force.
China intends to build 30,000 km of train tracks by the end of 2020, extending the total length of its railways to 150,000 km, a Ministry of Transport official said on Thursday.
Some 11,000 km of these railways will be for high-speed trains, yielding a total of about 30,000 km of high-speed rail, Zhang Dawei, deputy head of the ministry's planning department, said at a news conference in Beijing on Thursday.
"We will accelerate the construction of railways in central and western parts of China. We will also boost the expansion of intercity and suburban rail links," he said.
"By the end of 2020, more than 80 percent of mainland cities with populations of at least 1 million will be covered by high-speed railways."
On Wednesday, the National Development and Reform Commission issued a national railway development plan that envisions a 175,000-km rail network by the end of 2025. Under the plan, China will have 38,000 km of high-speed railways by then.
According to the NDRC, the country had an operational rail length of 121,000 km by 2015, and 19,000 km of that was high-speed. More than 60 percent of the world's high-speed rail is in China.
China Railway Corp said that since 2008, when the nation opened its first high-speed line, connecting Beijing and Tianjin, more than 5 billion passenger trips have been made on Chinese high-speed railways and passengers on high-speed lines increased by 30 percent annually.
About 4,200 bullet trains run in China each day, providing more than 4 million passenger trips, the industry giant said.
Wang Xianqing, director of the Institute of Logistic Economics at Guangdong University of Finance and Economics, said the central government has regarded high-speed railways as strategically important.
"The government plans to boost industries involved in high-speed rail and turn them into a new economic driving force," he said. "The new railway development plan encourages private enterprises to invest in railways, which will generate opportunities for them."
The rapid growth of high-speed rail in China has largely stimulated the formation of economic clusters and real estate development, he said.
In addition to the expansion of the railway network, China is also developing a next-generation bullet train that can run as fast as 400 km/h, said Jia Limin, a professor at Beijing Jiaotong University and the head of the national high-speed railway innovation program.
The ultrafast train will be able to adjust its wheels to fit various gauges on foreign tracks, making it more suitable for cross-border service than today's trains, Jia said.