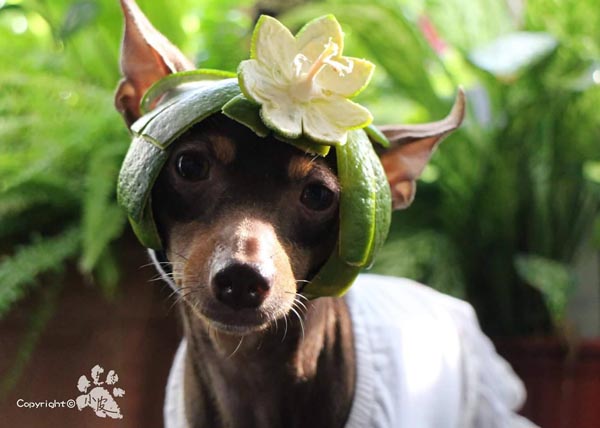 Chic photo of Xiao Pi. [Photo provided to chinadaily.com.cn]
A dog in Taiwan has become an internet sensation after her owner posted photos of the animal wearing dresses made from vegetables and fruits.
The dog, called Xiao Pi, is seven years old. The owner, a lover of puppy, plants, vegetables and the aesthetic mixing of all of them, calls herself Mom of Xiao Pi and has created all the outfits by herself.
Many web users praised the dog's cuteness, saying it looked so stylish that it could attend fashion shows in Paris.
Some, however, questioned whether the animal liked being dressed like that. But the owner said: "First, it's not for advertisement. Second, the dog wears the outfits until the photo shoot lasts."
Xiao Pi is not a new sensation on internet. Its Facebook account was set up in July 2015, whose page has already been "liked" by 111,701 fans. The owner also wrote a book called Pi Fashion, telling stories of Xiao Pi's fashion photos.
Here, Mom of Xiao Pi shares with chinadaily.com.cn more photos of her "daughter".