Eye on the teen market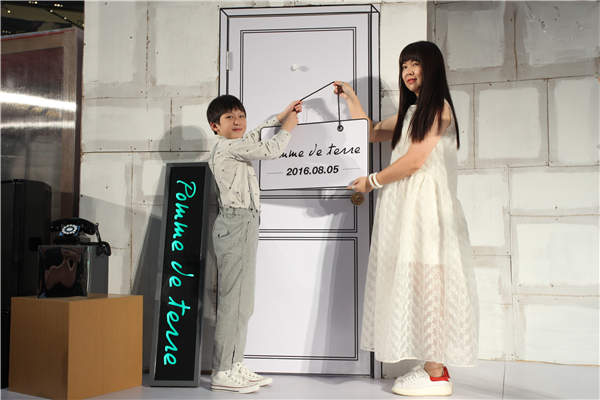 Zhu Yongrong, general manager of business unit for children's brands, and child star Zhu Jiayu at the opening of the brand's first store in Chengdu. Photos provided to China Daily
A major Chinese fashion label has recently launched a new brand called Pomme de terre to fill a void in the fashion scene. Sun Yuanqing reports.
Adolescence can be a difficult time for teenagers and their parents, but major Chinese fashion brand JNBY wants to make it fun on the clothing front.
JNBY has recently ventured into this space with a brand called Pomme de terre.
The brand debuted in Chengdu earlier this month with a fashion show and store opening.
Inspired by an imaginary male character called Pomme, the brand's motto is "Don't be serious", and its first collection highlights light colors and natural fabrics.
Five years after founding jnby by JNBY, a children's wear label, JNBY created Pomme de terre at the request of mothers of growing children, says Li Lin, JNBY's founder.
Li says she doesn't believe in market research before going into new ventures. Instead, she believes in the power of the heart.
"We don't do things for commercial reasons only. We do them for love.
"People have different feelings after they have kids," she says.