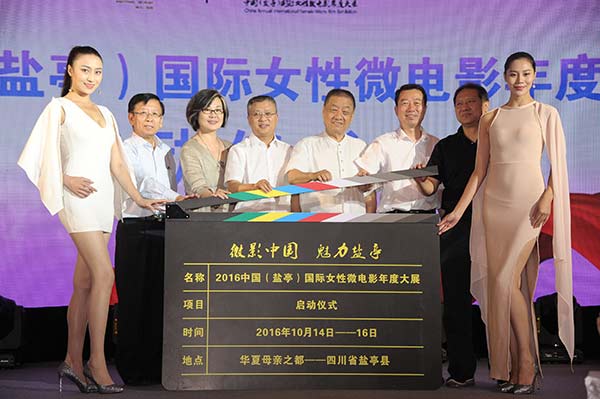 Organizers announce the launch of China Annual International Female Micro Film Festival in Beijing on Tuesday. Photo provided to China Daily
China Annual International Female Micro Film Festival, the country's first such event focusing on women's subjects, recently announced its launch in Beijing.
Jointly held by the micro film sector of China Film Association and the governments of Mianyang city and Yanting county, both in Sichuan province, the festival will select nominations from now through October.
The winners --including the best awards for director, picture, producer, scriptwriter, actor, actress, etc-- will be awarded from Oct 14 to 16 in Yanting, known for the legend of China's ancient female ruler Luo Zu.
Celebrities, such as actress Vivian Wu, who shot to fame after starring in Bernardo Bertolucci's The Last Emperor, and actor Li Chengru, will, alongside veterans from the film industry, be in the jury panel.
Ding Yinnan, a veteran director, said it's a forward-thinking project aimed at highlighting the women-themed micro movies and hopes the festival will push more filmmakers to focus on women issues.