Small diner a hotspot for fare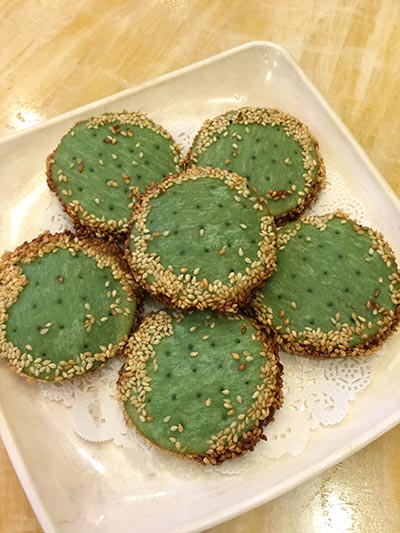 Green-tea cakes have a sesa-me edge and a taro filling. [Photo by Mike Peters/China Daily]
Gaoyin Jie is reputed to be Hangzhou's most popular restaurant street. The long and brightly lit stretch of restaurants beckons to visitors like a gaudy line of casinos, offering local favorite dishes like Dongpo pork, named for a Song Dynasty (960-1279) poet, and a dozen dishes featuring tender bamboo shoots. Jiaohuaji, chicken wrapped in lotus leaves and baked in clay, is another must-try-it's popularly known as "beggar's chicken", though the taste borders on princely.
Lao Hangzhou Feingwei is one of many eateries on the street serving the traditional dishes of the area, with main dishes starting at around 25 yuan. Surprisingly, it's a challenge to find, even for Chinese, because most of the restaurants along the strip have very similar names-our taxi driver dropped us at the corner with a shrug and a wave of his hand, but since we had the specific address we found No 141 easily.
It's a bustling joint, with the friendly ambience of a Western diner. Expect lots of chatter and family-style service, with reasonably quick table turns-not exactly eat and run, that's so un-Chinese, but even locals don't linger like they might at a more upscale restaurant.
Ordering is no problem for non-Chinese visitors, thanks to the picture menu and a brilliantly lit sign inside featuring the most popular dishes. Steamed shrimps with tea leaves glowed invitingly, but since we'd had that the night before, we started our meal with a classic, the diced chicken and eggplant pot. Flavorful and fragrant, there was plenty to share.
We also enjoyed the dongpo pork, slow-cooked and rich with gelatinous fat but not greasy. It's served in individual-sized chunks instead of a big platter, which makes it easy to enjoy more dishes.
A guidebook tempted us to try a dish we hadn't seen elsewhere, Hangzhou-style lamb chops. They are salty and fatty, a little too much so for some, but rich with flavor. A local beer like Cheerday is ideal for washing them down-or a jug of the house-made rice wine.
To finish the meal, we couldn't resist the green-tea cakes, which look like cactus leaves with a toasted sesame-seed edging. It was a tasty use of the area's famous Longjing tea, and the flavor was nicely balanced with a filling of mild taro paste.
Like many Hangzhou restaurants, Lao Hangzhou Fengwei closes at 9 pm.
If you go
Lao Hangzhou Fengwei
141 Gaoyin Jie (parallel to Qinghefang Old Street), Hangzhou.
Related: