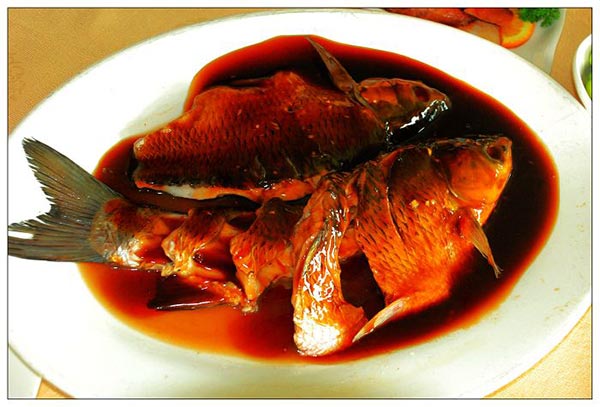 West Lake fish in vinegar is a signature Hangzhou dish found in various restaurants in the city. [Photo provided to China Daily]
If I ever go into the restaurant business, I pray for a reputation like that of Louwailou.
But perhaps I wouldn't live to see it. Like many of the world's most famous restaurants, Louwailou earned its acclaim over many generations. There is some debate about when the place opened, but 1838 or 1848 seem likely.
There are also a romantic mix of stories about its founding. Unlike today, when restaurants dot the waterfront of West Lake, back then there was not a good place to eat in the area, the story goes. The owner had failed the imperial examination for scholars, but he and his wife had developed skill cooking fresh fish and shrimp which they sold on the street in their hometown of Shaoxing. After the deaths of their parents, they moved to Gushan (Solitary Hill) on West Lake and made their living by boating and fishing. At some point the boss was inspired by Lin Sheng (1163-1189), a poet in the Southern Song Dynasty (1127-1279), who wrote: "The green hill besides the mountain and a house sets outside another building, ceaseless dances and songs along the West Lake, the breeze that makes us inebrious..." Giddy with delight, he founded the restaurant now famous for "enjoying delicious dishes and beautiful scenery together".
The restaurant's setting lives up to such exalted sentiment. It glows on the lakefront, and a separate dining room is literally docked out front, for private parties for those with some cash and clout.
On land, the main dining room is a sea of white tablecloths and fast-moving waitstaff. After more than 150 years, the place draws a crowd and there's always a wait unless you happen to arrive as we did-at 10:30 am when the restaurant opens. By 11 the place was full and a line had formed out front.
The specialty here is sweet-and-sour carp, and our platter arrived with two whole fish under a sauce that was dense without being gloppy. In Hangzhou style, the "sour" was a little more dominant that the "sweet", making the dish less cloying than some Shanghai or Cantonese variations on this theme.
"When prepared and presented well," the menu advises, "the dish will be served with erect pectoral fins with eyes looking up and have a tasty flesh, integrating delicious sweet and sour flavors as well as the taste of carp."
We ordered that right away (it's 208 yuan or $31 for 500 g), then started our meal with a platter of sweet lotus root and a local beer, followed by an intriguing side dish of wild vegetables with melon seeds, peanuts and pinenuts.
Next came beggar's chicken, which has its own sweet story from long ago: Unsure what to do with it, a beggar put a chicken in a lotus leaf and buried it in the mud. Later, eager to feed a hungry friend, he dug up the chicken and put it whole, still wrapped in the lotus leaf and mud, into the fire. "When he opened the mud casing," our menu recounts, "the aroma and tenderness of the chicken cooking in its own juices was heavenly". Since then, the dish has been a Hangzhou specialty, the story goes, with more local flavor added by using Shaoxing wine inside the lotus wrap.
These fun tidbits from the menu, by the way, are in English as well as Chinese, so guests from far away can enjoy the lore of the West Lake cuisine as much as the locals do. Crystal shrimps sauteed with Longjing tea, Dong Po-style braised pork, hot-and-sour fish soup, crispy rice with shrimp, and Hangzhou-style soup with sea cucumber, abalone, shark's fin, dried scallop and ham are all on offer, explained in similarly charming detail.
The restaurant has served many famous personalities over the years including Sun Yat-sen, late Premier Zhou Enlai and writer Lu Xun, as well as many foreign dignitaries and celebrities.
Related:
Travel guide to Hangzhou, a paradise on earth