Celebrity manager faces divorce trial after allegedly stealing boss's wife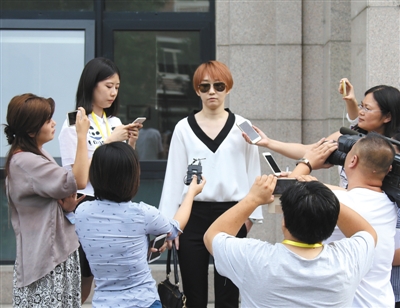 Song Zhe's wife Yang Hui stands outside the court house in Beijing's Chaoyang district on August 29th, 2016.[Photo/The Beijing News]
Wang Baoqiang's former manager Song Zhe and his wife Yang Hui's divorce case opened on Monday at a court in Beijing's Chaoyang district.
According to the Legal Evening Post (Fa Zhi Wan Bao), the trial was closed to the public, with many details unpublished. However, Song was a no show at the trial, and only his lawyer appeared in court.
The case has drawn much attention as Song is accused by the well-known actor and his former boss, Wang, of being responsible for breaking up his marriage.
In a Weibo post (China's Twitter-like micro-blogging platform) by Wang two weeks ago, he wrote, "Due to Ma Rong's improper extramarital sexual relations with my agent Song Zhe, which has severely hurt my marriage and destroyed my family, I have solemnly decided to dissolve my marriage with Ma Rong and release Song Zhe from his position."
There are also rumors swirling over whether Ma and Song conspired to transfer and hide assets belonging to Wang.