Aquatic bounty of Hangzhou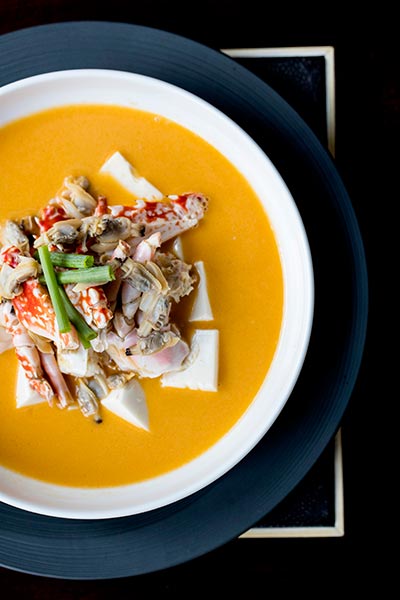 Braised spotted sea crab with clams and bean curd in rice-wine vinasse. [Photo provided to China Daily]
Chef Wang Yong feels blessed by geography. "Hangzhou is basically a rich bowl of produce," he says, smiling as he describes the seafood, the freshwater fish and crabs, and the seasonal vegetables readily available here.
Wang presides over the kitchen at Jin Sha, easily the most awarded restaurant in Hangzhou. Perched right on West Lake inside the luxury Four Seasons hotel, Jin Sha commands the top spot on Trip Advisor rankings as well as holding prestigious awards from magazines like Food & Wine and Forbes.
I've joined him for a meal just before the G20 opens in the city, and he starts me off with a salad of green vegetable and almond slices, served with goose liver paste and spring-onion pancakes.
There's also a test: Porcelain cruets appear at my right hand, and he asks whether I prefer soy sauce or vinegar.
The answer doesn't reveal much about a non-Chinese like myself, but Wang knows that locals in Hangzhou will choose vinegar, while visitors from nearby Shanghai-and there are many-opt for soy.
Wang has been at Jin Sha since its opening six years ago, but he's hardly been tethered to the spot. When he's not busy creating new menus or directing special events, he takes short getaways to explore food trends elsewhere. Recently, he's followed his nose to Yunnan (in pursuit of white mushrooms), Suzhou, Tokyo and Bangkok to "refresh his food spirit".
Many of his culinary finds are closer to home.