Chinese film 'Bitter Money' to compete at Venice film fest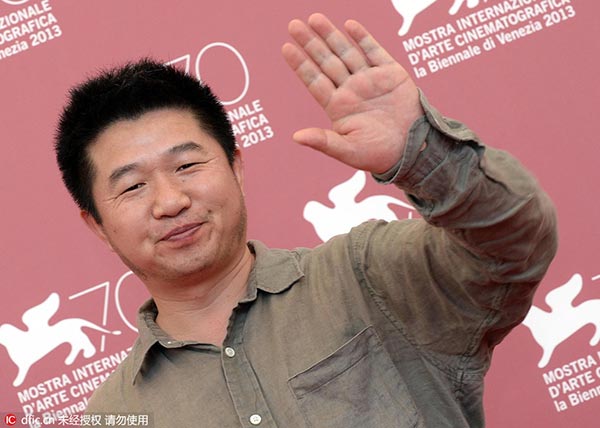 Chinese movie director Wang Bing poses during a .call for "Feng Ai: (Til madness do us part) during the 70th annual Venice International Film Festival, in Venice, Italy, Sept 5, 2013. [Photo/IC]
The complete program of the 2016 Venice Film Festival was unveiled during a press conference on Thursday. Chinese director Wang Bing's "Bitter Money" will compete in the Horizons section. In 2012, his documentary "San Zimei" (Three Sisters) had been awarded the best movie in the same section.
The 73rd edition of the Festival, which will run from Aug 31 to Sept 10 on the Venice Lido, opens with musical "La La Land" by Damien Chazelle starring Ryan Gosling and Emma Stone, and closes with a remake of classic Western "The Magnificent Seven" by Antoine Fuqua, featuring Denzel Washington.
It will see the participation of major international directors such as Terrence Malick, Emir Kusturica, Wim Wenders, Tom Ford, and top stars like Michael Fassbender, Monica Bellucci, Natalie Portman, Mel Gibson, Keanu Reeves, and Jim Carrey.
Overall, some 20 films will play in the official competition as world premieres, 18 movies and documentaries out of competition, and another 18 in the Horizons international section devoted to new cinema trends.
Some of the features unveiled on Thursday were already reported as possible major contenders of this year's Golden Lion award.
For example, "The Light Between Oceans" by American director Derek Cianfrance, a domestic drama starring Michael Fassbender, which was based on a novel by M.L. Stedman and filmed in a remote lighthouse.
There was also Tom Ford's thriller "Nocturnal Animals" with Amy Adams in the starring role of a woman who receives the manuscript of a new, troubling novel from her ex-husband.
This will be Ford's second film after "A Single Man", which premiered at Venice in 2009.
Other major contenders would include Chilean Pablo Larrain's "Jackie", a biographical drama with Natalie Portman starring as Jacqueline Onassis Kennedy; documentary on the universe "Voyage of Time" by Terrence Malick; "Frantz" by Francois Ozon, "The Beautiful Days of Aranjuez" by Wim Wenders, "On The Milky Road" by Emir Kusturica, and "Brimstone" by Dutch Martin Koolhoven.
Italy will compete in the official contest with three films: namely, movies "Questi Giorni" (These days) by Giuseppe Piccioni and "Piuma" (Feather) by Anglo-Italian director Roan Johnson, and documentary "Spira mirabilis" by Massimo D'Anolfi and Martina Parenti.
"In the past, I pointed out how auteur cinema production seemed to lean towards an unfiltered relation with reality and contemporary society," artistic director Alberto Barbera told the press conference.
"Yet, cinema changes. And the impression I got from the line-up this year is of a different approach, much more indirect and following a non-naturalistic narrative."
This year's program would also aim at "pushing the boundaries of what can, and must, be shown in a festival," in order to make it as much popular and accessible as possible, Barbera explained.
The Venice Film Festival has announced its main jury will be headed by British director Sam Mendes as Chinese actress and director Zhao Wei will join the jurors.
The out of competition line-up features Mel Gibson's "Hacksaw Ridge", a World War II drama set in the Battle of Okinawa scene marking the debut of the American actor and filmmaker in Venice.
It will also include the first two episodes of "The Young Pope", an eight-episode television series by Italian Paolo Sorrentino, director of Academy Award winning "The Great Beauty in 2014, starring Jude Law and Diane Keaton.  
Run by Barbera since 2011, Venice Festival 2016 will repeat the experience of "Cinema in the Garden", a special section of open-air and free screenings inaugurated last year.
It will also pay a special tribute to two great late directors: Iranian Abbas Kiarostami, and American Michael Cimino.
Finally, the festival's market strand Venice Production Bridge mart will run from Sept 1 to 5.
"As long as we remain faithful to our mission, as a cultural institution, we will also be able to reinforce our ability to overcome strong international competition," Baratta, head of the Biennale di Venezia organizing the festival, said.
"High quality productions consider taking part in our festival a way to obtain added value for their commercial launch. The most recent editions, and this year's one in particular, have shown it very clearly."
Related:
Venice film festival announces Zhao Wei as juror