'Store' from online novel brought to life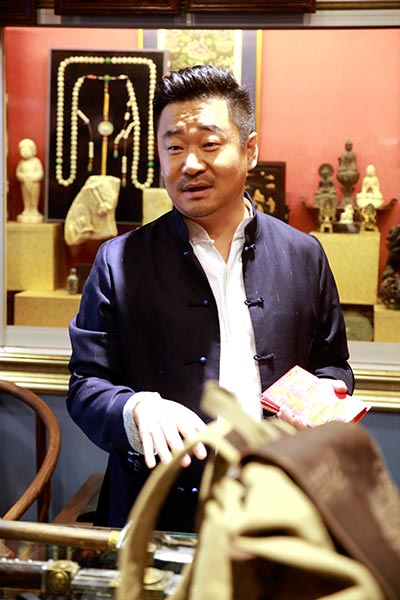 Wushanju, a replica of an antique store featured in the novel Grave Robbers' Chronicles, is opened in Beijing. [Photos by Feng Yonbin/ hina Daily]
A fictional antique store called Wushanju featured in the hit online novel
Grave Robbers' Chronicles
was brought to life in Beijing's Panjiayuan antique market on Tuesday.
The store, nestled in a commercial building in the market, features copies of props — from weird-looking weapons to tomb-robbing devices — that are used in the upcoming film, Time Raider, which is based on the novel.
Wang Jingchun, who stars the owner of Wushanju in the film, attended the opening ceremony of the "store".
Speaking about the "store", Wang says that it is like a mini-sized museum meant to satisfy the curiosity of fans.
In the novel, Wushanju is run by the protagonist's uncle, also a veteran tomb raider.
Meanwhile, fans, who discuss the "store" online, have also paid visits to West Lake in Hangzhou, the capital of Zhejiang province, where the store is said to be located in the novel.
The heavy-effects movie, starring Jing Boran and Lu Han, will open in Chinese mainland theaters on Aug 5.
Related:
'Skiptrace' tops Chinese box office