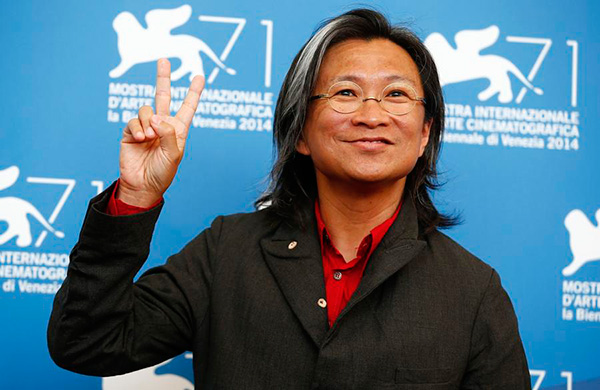 Chinese director Peter Chan Ho-Sun poses during the photocall for his movie "Qin'ai de" (Dearest) at the 71st Venice Film Festival August 28, 2014. [Photo/Agencies]
A special event called "Focus on China" will be unveiled at Venice Film Festival this year, the Italian National Association of Cinematographic Audiovisual Multimedia Industries (ANICA) announced recently.
"Under the guidance of various Italian government agencies and organizations, like Italian Ministry of Cultural Heritage and Activities and Tourism, Italian Trade Agency, and La Biennale, the umbrella organization committee of Venice Film Festival, we will organize an official event called 'Focus on China'. We hope that this event can further promote Sino-Italian and Sino-European interaction in the field of movies, culture, and trade", Roberto Stabile, Head of International Department & Events at ANICA said.
Established in 1932, the Venice Film Festival is the world's first international film festival and is seen as "the father of all film festivals in the world". The 93th edition of the festival will be held this year, from August 31 to September 10.
"Working together with Xinhuanet, the leading Chinese Internet based culture company, we expect to achieve more success and influence", said Stabile, "Besides, this event already received support from other partners, like China Film Co-Production Corporation (CFCC)."
"The film festival is an important gathering place for films and filmmakers, as well as an important moment for mutual interaction between different cultures," said Stabile, who recently attended the Beijing Film Festival. "It is significant that ANICA participated in the Beijing Film Festival, because it is an important way to let Italian movies get to China. It is a window, but also an important platform to enable Italian filmmakers to interact with their Chinese counterparts", said Stabile.
Stabile also pointed out that Marco Muller, former Director of the Venice International Film Festival, has made important contributions to Sino-Italian cooperation in the field of the film festivals. "He also served as chief advisor for the Beijing Film Festival, to bring the experience of Italy's Venice Film Festival to China, and to let more Italian people know about China's film festival", Stabile said.
According to Stabile, the Venice Film Festival succeeds to keep its vitality mostly through innovations made on top of its traditional foundation. "It is like a still pool: on the surface it seems to be very calm, but actually flowing water is poured into it every day; the old is continuously replaced with the new. The Venice Film Festival has a long history and solid traditions, and within this characteristic framework it is able to explore new ways and room to go forward", he elaborated.
As one of the concrete initiatives to strengthen the interaction between Chinese and Italian movies, ANICA just set up a permanent office in Beijing, as a solid foundation for future cooperation.
"During this year's 'Focus on China' event at the Venice Film Festival we will facilitate interaction between Chinese and Italian people, and discuss the possibilities of all kinds of cooperation. We are hoping to reach more cultural and economic cooperation in for example the field of movies." he concluded.
Related:
'The Secret Life of Pets' takes weekend box office winner for second time
Chinese film festival kicks off in eastern Indian metropolis