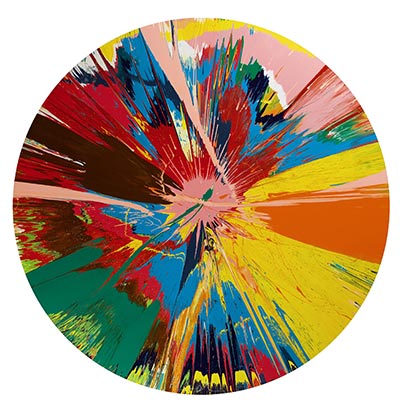 Beautiful, shattering, slashing.....(1995) by David Bowie [Photo provided to China Daily]
"Art was, seriously, the only thing I'd ever wanted to own," David Bowie (1947-2016) was quoted saying in a 1998 interview with The New York Times.
"It has always been for me a stable nourishment," said the rock legend who died of liver cancer in January. "The same work can change me in different ways, depending on what I'm going through."
An exhibition tour and sale will reveal David Bowie's less-known side as an art collector and his extensive connection with the art world.
Sotheby's will auction about 400 items from David Bowie's private collection in London in November, featuring modern and contemporary art and designs. A selection of the works will be first exhibited in London from July 20 to Aug 9, and then travel to Los Angeles, New York and Hong Kong.
The musician was born and raised in south London. His collection hence shows a focus on modern British art as his attention was drawn to the chroniclers of London, such as Frank Auerbach, Harold Gilman and Leon Kossoff.
His interest then expanded to the other side of the Atlantic Ocean. His purchase of Jean-Michel Basquiat work will also appear in the sale room.
He also acquired contemporary African art, outsiders' art from Vienna and designs of the revolutionary Memphis Design group.
David Bowie's patronage of art was also celebrated in his being on the editorial board of Modern Painters magazine and launching an art-book publishing company. He painted throughout his life, and he was immersed in art communities of London, New York and Berlin.
"Eclectic, unscripted, understated, David Bowie's collection offers a unique insight into the personal world of one of the 20th century's greatest creative spirits," Oliver Barker, chairman of Sotheby's Europe, says in a release.
Related:
Legendary rocker dies after 18-month battle with cancer