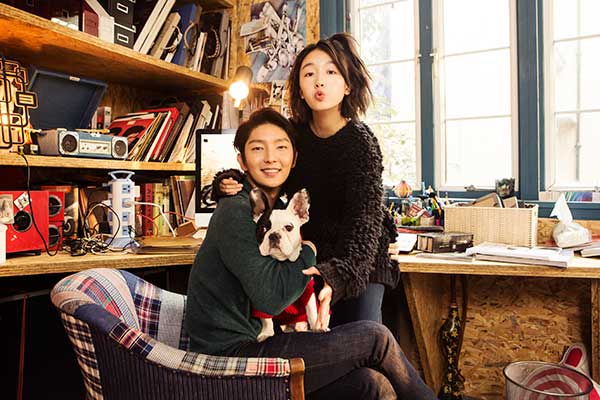 The new romance Never Said Goodbye stars South Korean actor Lee Joon-gi and Chinese actress Zhou Dongyu in the main roles.[Photo provided to China Daily]
Once hailed as one of Hong Kong's most talented art-house directors, Stanley Kwan is now increasingly working as a producer.
The 59-year-old veteran, who directed dozens of hits including Rouge (1988), based on a female ghost's love story, and Center Stage (1992), based on 1930s Shanghai megastar Ruan Lingyu's life, is now partnering with Taiwan director Lin Yu-hsien on a romance called Never Said Goodbye.
The feature will debut in the Chinese mainland on Aug 9, when China marks the Qixi Festival, which is referred to as China's Valentine's Day.
The Taiwan and Hong Kong's releases will come later, followed by South Korea if the movie performs well in the Chinese market, says Lin.
Kwan's latest production effort follows actress Zhao Wei's So Young and photographer Luo Dong's New York New York - their directorial debuts.
Speaking about his new role on the sidelines of the film's launch press conference on July 6, Kwan says he would like to "escort young talents", and adds that he also wants to give opportunities to newcomers.
Asked about working with newbie directors from diverse backgrounds, Kwan says it offers him a window to look at unfamiliar fields.
In the case of So Young, the 2013 hit, which raked in a record box-office tally of 720 million yuan ($108 million) and sparked a boom in coming-of-age romances, it offered Kwan a chance to look closely at an A-list actress' raw, yet stylized directing.
"Most people thought that I taught Zhao directing. But as a veteran actress, she had her experience to coach the cast. It was inspiring for me," he says.