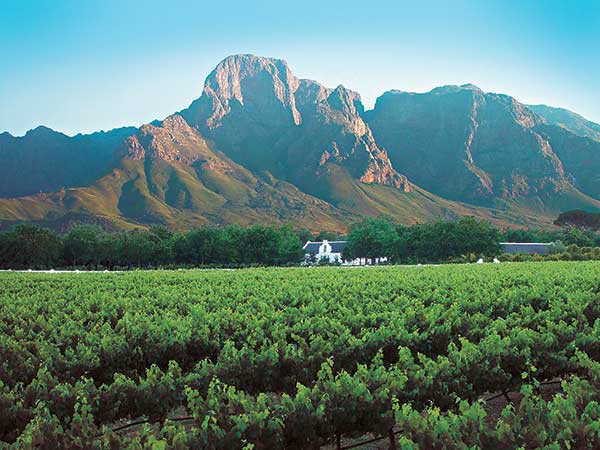 Boschendal's vineyard in a valley near Cape Town.[Photo provided to China Daily]
When thinking about wine-producing areas, many Chinese will most likely turn their minds to Europe, America or Australia. They are less aware of South Africa and its wines.
The country is the world's eighth-largest producer of wines, however, and brands like Boschendal, first established in 1685 and a top label of DGB, one of South Africa's leading wine producers and exporters, are eager to attract more Chinese wine drinkers.
The brand entered the Chinese mainland market about five years ago, and the company sells only to fine-dining restaurants.
Earlier this month, a group of DGB's top executives, including CEO Tim Hutchinson, came to Beijing for a dinner and wine-tasting event, as part of its global celebration of the winery's 300th anniversary, which fell in 2015.
"We get a lot of interest in China," he says.
"Drinking wine is not part of Chinese culture yet, but drinking wine is fashionable and trendy, and there are also health benefits."
Although the market is depressed due to the Chinese government's crackdown on taxpayer-funded banquets, individual wine lovers are not affected. Also, people are starting to drink more fine wines, he says, and Boschendal sees that as a huge opportunity.
The brand has wines in different categories - easy-drinking, entry-level and premium. Its wine making tradition spans three centuries to authentic French origins, with a terroir that is distinct and ensures that a variety of grape cultivars can flourish.