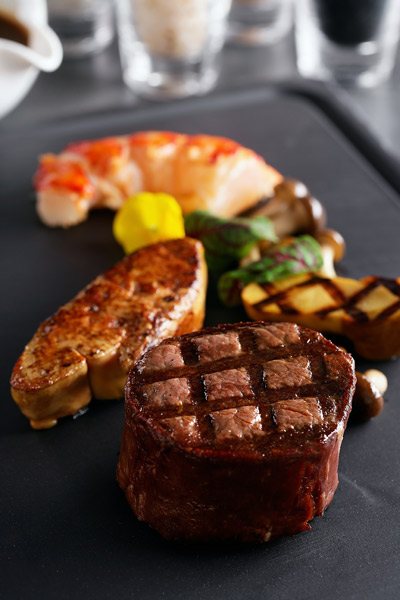 Char Indulgence Blackmore's Wagyu. [Photo provided to chinadaily.com.cn]
Char is a stand-alone IHG Food & Beverage brand, first opened in Shanghai's Indigo Hotel. It has successfully built a strong reputation since its launch in 2011 as a contemporary grill and bar that delivers a fine but refreshingly informal dining experience.
The focus at Char, located at the popular Lido commercial circle and occupying the most private site on the first floor of the Crowne Plaza Beijing Lido Hotel, is on simplicity of flavor and playfulness in presentation. In the kitchen, Chef Fernando prides himself on only using the freshest of ingredients, both local and international produce, which is sourced from Shanghai and Beijing's finest providers. The menu is constantly changing according to the season and designed to reflect the style.
The restaurant doesn't cut corners when it comes to quality, either. Char is a steakhouse in town serving Wagyu eye-fillet beef from David Blackmore's award-winning, environmentally sustainable ranch in Australia. The Fullblood Wagyu cattle have bloodlines that can be traced back more than 70 years and are fed for 600 days using traditional Japanese farming methods—so you know your beef is going to be pretty amazing.
Char Indulgence Blackmore's Wagyu beef is served with grilled lobster, foie gras and truffle mash potato. It's over-the-top indulgence for a capital city.