Going wild in wetlands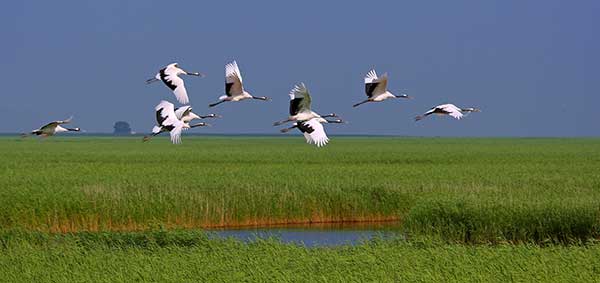 Red-crowned cranes fly over the reed swamp of Zhalong Nature Preserve, known as "the land of cranes".[Photo provided to China Daily]
Heilongjiang's marshes offer places to explore nature while beating the heat. Yang Feiyue reports.
Chen Yan enjoyed seeing wild birds as he boated over Heilongjiang province's Khanka Lake.
He also enjoyed seeing - and eating - the fish in its waters.
That's not to mention wearing long sleeves in the summer, as his native Beijing baked in late June.
It was breezy and dropped to 13 C in mornings, he says.
"I took the trip to escape the heat. I felt bad for my friends back home," he says, jokingly.
But he discovered more than cool climates at such places as the island of Zhenbaodao's wetlands in the center of the Wusuli River that runs between China and Russia.
There are also pristine natural areas inhabited by wildlife.
Chen boated Jingpo Lake and visited a nearby lava cave.
He watched performers jump from the Diaoshuilou Waterfall.