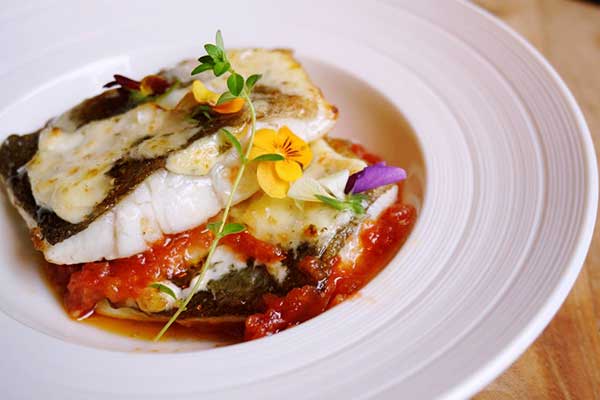 Honeybaked-codfishwith creamy tomato and aioli is one of Niajo's summer offerings.[Photo provided to China Daily]
Alex Sanchez, the Spanish chef and owner of Niajo, has been living in Beijing for more than 11 years, and he knows that the capital's high summer temperatures demand a change in the way people eat.
He's designed a new summer a la carte menu of about 45 dishes with appetizing and healthy recipes.
The avocado salad with shrimp, corn, tomato and feta cheese is such a delight to the eyes that I almost feel guilty when I destroy the carefully arranged presentation of colorful ingredients to eat them.
The vegetables are fragrant, fresh and crunchy, and match well with other savory flavors from the shrimp and salty cheese, and the avocado slices are sufficient for any enthusiastic avocado lover.
The plate of Spanish Manchego cheese with olive oil and black pepper is also a must-have. The ivory-yellow cheese, buttery with a slight piquancy, has a firm texture.
A very nice feature of the dish is the grilled garlic - the cores of the garlic cloves have been removed so that the garlic would not cause bad breath.