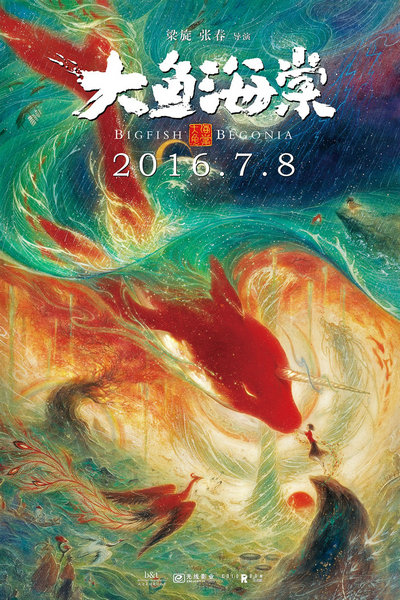 Poster of the film Big Fish & Begonia. [Photo/Mtime]
A new film -- one of China's "most anticipated" animated films -- Big Fish & Begonia, finally hit the big screen last week after 12 years of production, but the response was anything but clear and it suddenly became the most disputed work in Chinese animated film history.
Big Fish & Begonia is the work of the young Chinese animation directors Liang Xuan and Zhang Chun and showed impressive box office returns -- brining in more than 200 million yuan ( $29.92 million ) -- in just three days after release.
It tells a story of a young girl named Chun who lives in "another world" beneath the sea like a sea sprite. She once turns into a big fish to visit the human world. However, a boy there dies trying to save her when she is in danger. Chun tries everything to bring the boy back to life even though it goes against the laws of her world and she sacrifices her life and her clansmen are punished.
The film wowed audiences with its trailers and was tagged as China's next best animated film, after the sensational Monkey King: Hero is Back (2015) -- before it hit the big screen. Then, the real reviews were shockingly divided, giving it only a 6.6/10 rating on Douban.com, one of China's biggest film review websites. Quite a contrast to all the anticipated glowing reports.
Delicate skin, empty heart?
When it got applause, it came mostly from its amazing visual effects and images chock full of Chinese elements, while the criticism came mainly from the plot and story.
It builds on an imagined world full of the beauty of traditional Chinese culture -- ancient architecture, furniture, dresses, lifestyle, landscapes -- all sparkling with Chinese elements. Clearly this hand-printed animation was exquisitely executed and even the word "beautiful" seems a bit weak or limp in describing them. Also, the musical score and sound effects are full of oriental charm and got plenty of thumb-ups from audiences.
"This is just so beautiful. It's worth 12 years of waiting," commented Southern Metropolis Daily, one of China's most popular newspapers.
But, even with all the high production values and the quality, the story itself seemed less attractive, and left many people even calling it "stupid and childish". And, even when Chun sacrifices herself and the safety of her whole clan just to save a human (the boy named Kun) to send him home, it was seen as selfish and unreasonable by many.
Moreover, the relations between Chun, Kun and another lead actor, Qiu, came in for a lot of criticism, with many people calling it a "love triangle" that lowered the values and made the story seem cliché-ridden. And, Qiu's final sacrifice for Chun left the poor girl even less popular with viewers, with many even tarring Chun with the accusation of being self-centered.
"Just because you love someone, you can sacrifice all the villagers' lives and act against everyone else. Just because you love someone, you can reject other people's love and let another die for you...oh, I am so touched," said a viewer named You Yishidejianmin on Douban.com. The comment got 8,677 likes on the website.
While Hao Xin, lecturer of the Film and Television Animation Dept of Zhejiang Gongshang University, commented, "Paying too much attention to technology (visual effects), and little to the screenplay, that's the real problem."
Many critics responded by labeling the much-anticipated film a "delicate skin and empty heart".