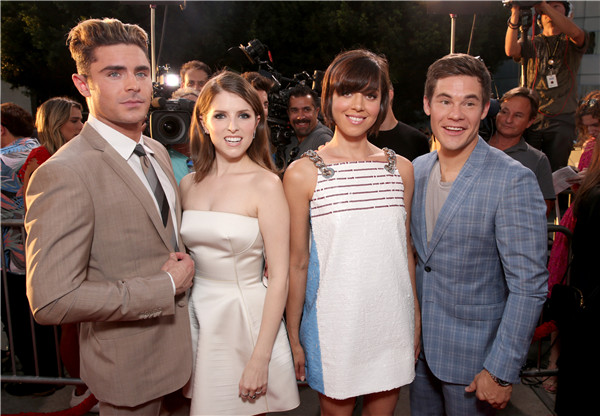 Zac Efron, Anna Kendrick, Aubrey Plaza and Adam Devine attend the premiere of Mike and Dave Need Wedding Dates in Los Angeles. [Photo by Toddw Illiamson/Getty Images]
How a craigslist ad became a feature film.
Adventure. Suspense. True Love. Royalties!
Those are just a few of the things Mike and Dave Stangle promised in a Craigslist ad they posted in search of dates for a cousin's wedding in 2013. The royalties part - assuring prospects they would refuse Ashton Kutcher for either of their characters - was just in case "our night's story is developed into a romantic comedy".
Fast forward to Mike and Dave Need Wedding Dates, which opened Friday, July's boozy, degenerate Hollywood take on what transpired after the ad went viral and the two parlayed a slew of crazy dates into book and movie deals.
Oh, and forget Kutcher. Zac Efron and Adam Devine got the parts, along with Anna Kendrick and Aubrey Plaza as a couple of skanks masquerading as classy for the big wedding of a sister in the film rather than a cousin.
"People don't believe that it's completely ironic we put a line about it becoming a movie in there, but it really is," Dave said in a recent interview. "We didn't even know how to get something to go viral. It was sort of before either of us really knew what viral was."