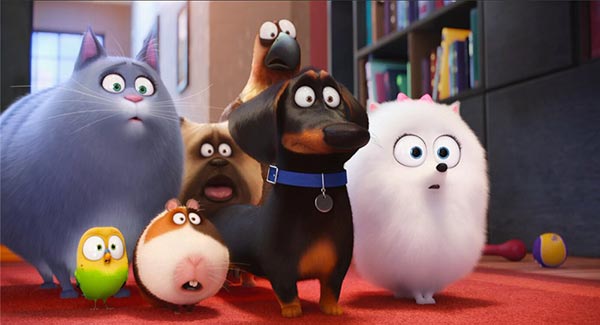 A scene from The Secret Life of Pets. [Photo/Mtime]
The Universal Illumination's animated film "The Secret Life of Pets" topped the movie box office for the second consecutive weekend at North American box office on Sunday.
"The Secret Life of Pets" had an estimated $50.6 million in North American ticket sales, increasing its total for its 10 days in release to $203.1 million dollars, according to figures released by comScore.
This weekend revenue of "The Secret Life of Pets" showed a 51.5 percent drop from last weekend. By comparison, "Minions" slipped 57.4 percent on its second Friday last year.
Sony's "Ghostbusters" was second with $46 million from 3,963 locations this weekend. The ghost-filled comedy with Melissa McCarthy, Kristen Wiig, Leslie Jones and Kate McKinnon took a "B+" rating from first-night moviegoers on CinemaScore. Critics on RottenTomatoes gave it a good 73 percent of recommendation rate.
"The Legend of Tarzan" was third with $11.12 million in its third weekend of release, adding its total gross to $103.1 million.
The Disney's animated comedy "Finding Dory" was fourth with $11 million dollars, down 47 percent from last weekend. With $445.5 million in 30 days in theaters, "Finding Dory" surpassed "Shrek 2" ($436.7 million) to set new North American box office record for an animated film. It's the Pixar's highest grossing film in studio history. Worldwide, "Finding Dory" has earned $721.7 million.
The R-rated comedy "Mike And Dave Need Wedding Dates" was fifth with $7.5 million for its second weekend in release, down 54.9 percent compared with last weekend. It was fourth in its opening weekend with $16.6 million.
Rounding out the rest of the weekend box office Top 10 were "The Purge: Election" ($6.1 million), "Central Intelligence" ($5.3 million), "The Infiltrator" ($5.3 million), "The BFG" ($3.7 million), and "Independence Day: Resurgence" ($3.5 million).
Related:
Coming-of-age film 'At Cafe 6' to be screened