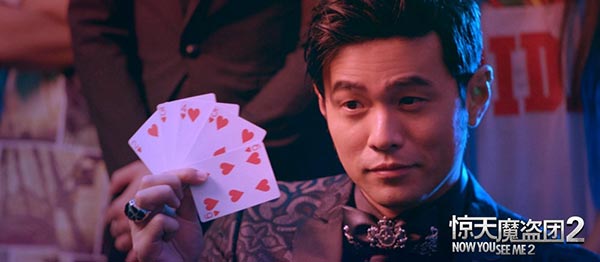 Chinese singer and actor Jay Chou in "Now You See Me 2". [Photo/Mtime]
"Now You See Me 2" soared to the top of the Chinese box office, earning 287 million yuan ($43.1 million) in its debut weekend, knocking "Warcraft" off the top perch, China Film News reported.
"Independence Day: Resurgence" stood in second place with 240 million yuan in sales in its first weekend in Chinese theaters.
"Warcraft" dropped to third place after two weeks of leading the box office. The cinematic adaptation of the game franchise has raked in 1.45 billion yuan after its release on June 8.
Fourth place went to Pixar's "Finding Dory," which made 79 million yuan last week. It has earned 197 million yuan since its release on June 17.
Rounding out the top five was domestic film "Three," which grossed 62.4 million yuan since hitting screens on June 24.
Related:
Disney's 'Finding Dory' leads box office again