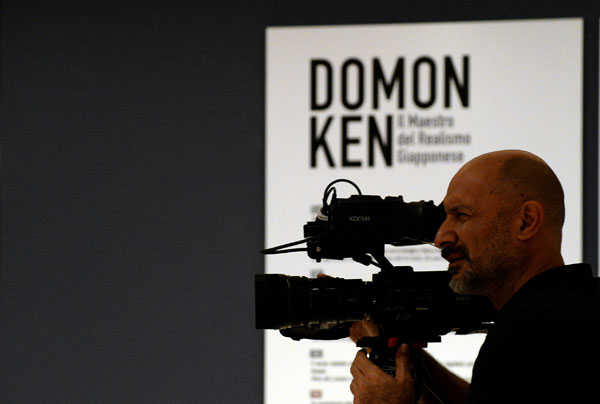 People visit the exhibition of Japanese photographer Domon Ken (190990) at the Ara Pacis Museum (Museo dell'Ara Pacis) in Rome. The show runs through Sept 18, to mark 150th years of friendship between Japan and Italy. [Photo by Filippo Monteforte / AFP]
The works of Ken Domon, an acclaimed photographer whose images of the aftermath of the Hiroshima bomb shocked 1950s Japan, took center stage in Rome at the end of last month with the opening of the first exhibition of his pictures outside his home country.
Domon, who died in 1990, is venerated in Japan as one of the country's greatest photographers and a pioneer of realism, but relatively unknown internationally.
Organisers of the collection on display at the Italian capital's Ara Pacis museum hope that will begin to change with an exhibition that runs until Sept 18.
It features some 150 of his works dating from the 1920s to the 1970s and encompasses the full range of his enormous output, from propaganda-style shots of military cadets and nurses destined for the frontline in the 1930s through his documenting of Japan's post-war social and political struggles.
There are also examples of his meticulous capturing of the country's temples and Buddhist statues and portraits of artistic figures of the 1960s and 1970s.
"He loved 'his' Japan, all of its art and its people and he wanted to show this Japan to the world through a Japanese eye," says Takeshi Fujimori, a former student of Domon's who was in Rome for the opening.
Fujimori jointly curated the Rome exhibition with Rossella Menegazza, an Italian expert on the history of East Asian art.
Now the artistic director of the Ken Domon Museum of Photography in Sakata in northern Japan, Fujimori recalls Domon as having a gruff, uncompromising side to him that made him a hard taskmaster.
"That is why they called him the devil of photography. He never used words to teach, you had to learn by observing him.