Importers push oil and oats in campaigns of healthy eating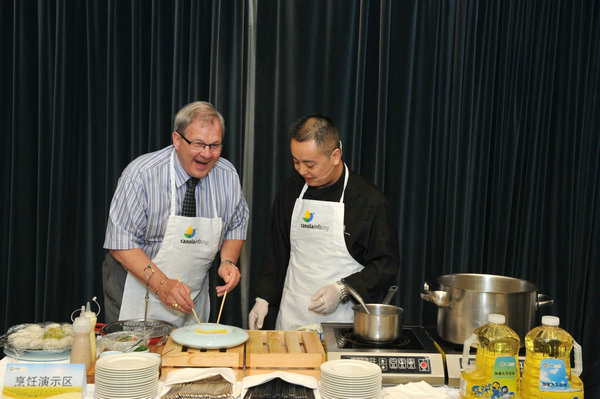 Lawrence MacAulay, Canada's minister of agriculture and agri-food, teams up with Yang Yuanjun, executive chef of Chinese cuisine at Beijing's Four Seasons Hotel, to demonstrate the use of canola oil in the kitchen. [Photo provided to China Daily]
Eating healthy is a key part of being healthy.
Over the past 30 years, Chinese have been eating less cereals but more animal-based foods and oils, as well as over-processed foods that have lost much of their vitamin, mineral and dietary-fiber content.
Now, some healthy-foods suppliers are making things easier for people who want to adopt wiser eating habits.
Quaker, one of the biggest oats suppliers in the world, has joined hands with the Chinese Nutrition Society to educate the public on the importance of a balanced diet that incorporates whole grains, including oats, across China.
Recently, the Canola Council of Canada came to Beijing to promote the health benefits of Canadian canola oil to Chinese consumers.
"Low in saturated fat with zero trans fat, canola oil is an ideal source of fat for Chinese consumers," says Bruce Jowett, vice-president of market development for the council.
Because more and more Chinese consumers are concerned about health and food safety, he says, the amount of canola oil being imported from Canada to China has been increasing.
Liu Zhen, in her 30s, says canola oil is her secret weapon in the kitchen.
She started using the oil about two years ago, at the recommendation of a friend.
It has about half the saturated fat of sunflower, olive, soybean and groundnut/peanut oils, but has the most plant-based omega-3 fat of all common cooking oils, making it good for the heart, Liu says.
The oil also has a neutral flavor, light texture and high heat tolerance, so is great for wok cooking and other food preparation in a Chinese kitchen, Liu adds.
However, most Chinese customers are not as familiar with canola oil.
Canola was developed from rapeseed more than 40 years ago, when Canadian plant breeders in government, industry and academia teamed up to develop a seed that would produce oil with less than 2 percent erucic acid in its fatty-acid profile. The result was canola, which has another benefit for producers: the seeds are 44 percent oil, more than double the oil content of soybeans. Scientists have continued to make improvements in its fatty-acid profile and other factors.
In China, 16 million tons of vegetable oil are imported yearly, but only 9 percent of that is made out of canola-although 97 percent of the canola oil that comes to China is Canadian, according to Jowett.
Du Songming of the Chinese Nutrition Society says a healthy lifestyle and diet is beneficial to everyone, and urges people to use quality vegetable oil.
After documenting that the Chinese consume more unhealthy oil and salt than they should, and drink more alcohol but exercise less, the society issued a new set of guidelines in May. Detailing the ideal daily intake of foods for different groups of people, focusing on variety and quality, the goal is to counter the major nutritional problems among the Chinese and the rising health threats, such as obesity and diabetes, that can be affected by diet.