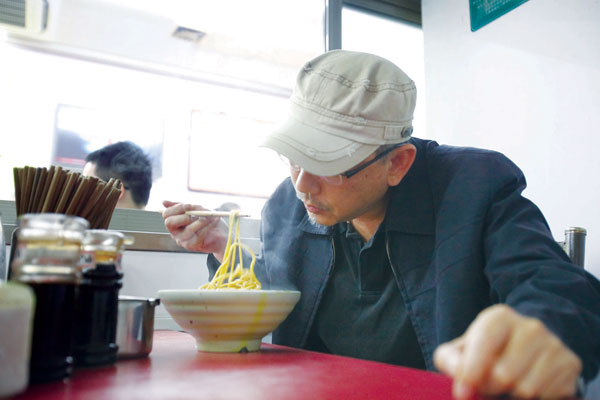 Rui Xinlin enjoying a bowl of noodles in Shanghai. The former lead vocalist of a rock band says that his love for noodles and street food stems from his childhood days. He published a book The Big Flavor of Small Snacks in 2014. [Photo provided to China Daily]
Besides being affordable staple food in China that is enjoyed by the masses, noodles often also represent an emotional link to cherished memories.
Rui Xinlin used to be a top student from one of the best high schools in Shanghai, but after being diagnosed with congenital heart disease, he failed his national college entrance exams.
There was a sort of silver lining, however, as he embraced rock music during his recovery period and became a rather prominent musician in that genre in the 1990s. He became the lead vocalist for a band called Bachelor's Degree and performed before tens of thousands of people at Shanghai's then largest concert hall and stadium. He said that rock music helped him to vent all the frustration and anger that was caused by the disease.
That was until the condition resurfaced in 2008 and almost claimed his life. Forced to change what he calls "a vulgar lifestyle" in the aftermath of the illness, Rui quit the music scene, got married, had a child and took on a job as a computer programmer with the municipal government.
This time around, Rui turned to, oddly enough, noodles for solace.
"Confucius once said that listening to Shao (a type of Chinese music believed to have originated 5,000 years ago) makes people forget about the taste of meat for three months," says the 49-year-old.
"I think it's the other way around. Savoring noodles makes me forget the excitement rock 'n' roll once brought me. By putting these familiar foods in my mouth, I am giving my brain an electric shock, just like how rock music used to energize me," he adds.