Blurred lines between 'menswear', 'womenswear' collections in Milan Fashion Week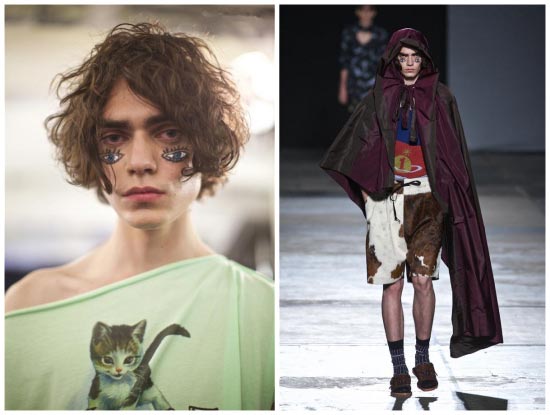 Models present creation of Vivienne Westwood men's Spring-Summer 2016-2017 collection, part of the Milan Fashion Week in Milan, Italy, on June 19, 2016.[Photo/Xinhua]
While the ongoing fashion week in Milan is subtitled "man", some brands' shows were decidedly unisex, featuring male models in clothes which could easily belong to women.
The geometric cuts of Chinese designer Miao Ran, who presented his spring/summer 2017 collection, adapted to the shape of the models' body to give them an androgynous look.
Colorful embroideries depicting creatures swimming on white canvas were the only decorative elements of his creations, which focused on clean lines and bold volumes with a play of light and shadow.
Rough denim, featherlight linen, white poplin and pure sand-washed silk, cotton mixed with a metallic thread, and weaved raffia were among the materials of his genderless collection.
"What I would like to do is just re-bring fashion back to the body, the body of people," Miao told Xinhua shortly after the show. In fact, fashion is made not for male bodies or female bodies, but for everyone, he explained. "And any person who feels self-confident, who knows who she or he is, can wear my clothes," he added.
Long coats in thick canvas were paired with flowing trousers, and loose-fitting bomber jackets and white shirts that fell well below the waist were matched with wide-legged pants.
"When I wear Miao Ran's creations I have the feeling that I am kind of free in my movements," one of the show's models, known as Roger B., said, "I feel comfortable and natural. More simply, I can say that I feel like myself," he said.
A clear distinction between menswear and womenswear also seemed to mean little to Vivienne Westwood, whose spring/summer 2017 collection recalled some of rock n' roll's greats, from fringe and military embellishments on jackets to fishnet detailing and velvet jackets.
Male models did not wear skirts or dresses, while some female models also walked the runway dressed in wide, purposefully sloppy tailoring. Knit dresses in the British designer's new collection appeared to function as Arab-inspired tunics.
"Actually, Vivienne Westwood, who played a vital role in the emergence of punk rock in the 1970s, was the first designer to realize that some clothes can be indifferently worn by men and women. She also plays with the fact that -- whether we may like to acknowledge it or not -- men are often even vainer than women," Antonio Mancinelli, editor-in-chief at Marie Claire magazine, said after the show.
"With this and other collections, Westwood also encourages people to build their own style. For example, all the bold volumes and envelopes we saw today can be knotted, adjusted and adapted in a variety of ways according to different tastes," he added.
The spring summer 2017 menswear edition of fashion week opened on Friday and will run until Tuesday with 37 shows.
Related:
Creations designed by graduates presented in Beijing