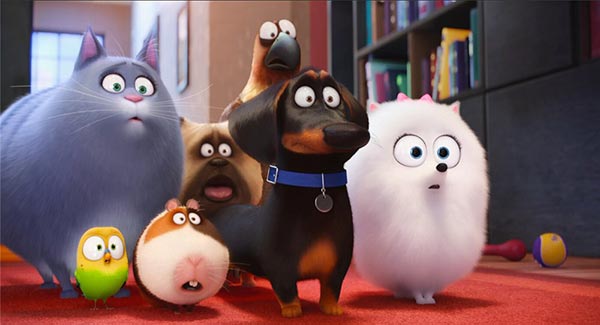 A scene from The Secret Life of Pets. [Photo/Mtime]
Original animated film "The Secret Life Of Pets" enjoyed a great debut this weekend, leading the North American weekend box office far ahead other films.
Presented by Universal Studio's Illumination Entertainment, "The Secret Life of Pets" debuted at 4,370 locations around America and Canada, the widest opening ever for an animated film, with an estimated $103.2 million in ticket sales. It's about $23,610 per theater average.
The three-day revenue leads this Universal picture to the sixth-highest opening total for an animated movie ever open with more than $100 million, according to movie box office tracker comScore.
Compared with the first weekend ticket sales of other animated films in recent two years, "The Secret Life of Pets" ranked in third place, only after Disney''s "Finding Dory" which received $135 million in first three days in June and Universal's "Minions" which got $115.7 million last July.
Internationally, "Secret Life of Pets" is only playing in nine film markets out of North America so far with a total sales of $42.6 million. In the following three months, the pets film will release in 57 more markets including China on August 2.
"The Secret Life of Pets" received a solid "A-" from first-night moviegoers on CinemaScore and it got a good enough 76 percent of recommendation rate from critics on Rottentomatoes. Among the audience of "The Secret Life of Pets", a large number of them are family viewers.
Warner Bros.'s "The Legend of Tarzan" was in second place this weekend with $20.6 million in ticket sales, dropping 46 percent compared with the sales of last weekend. Over 10 days of exhibitions, it has $81.4 million in North American ticket sales, which is still far behind its cost of $180 million.
"Finding Dory" was in third place with $20.4 million in weekend sales and $422.6 million in sales in America and Canada over 24 days, making it the highest grossing release in North America in 2016 and the third highest grossing animated release of all-time, less than only 200,000 of 1994's "The Lion King" which grossed $422.8 million in total, and only less than $19 million shy of topping 2004's "Shrek 2" , which got $441.2 million in all.
Internationally, "Finding Dory" has got $220.2 million, which adds its worldwide revenue to $642.8 million.
Fox's R-rated comedy "Mike And Dave Need Wedding dates" debuted in fourth place with $16.6 million in opening weekend sales. The film played to an audience that was 48 percent of male and 52 percent of female, and the audience split right down the middle in age demographic, playing 50 percent under the age of 25. It got a "B" rating from first-night audience on CinemaScore and a 41 percent of approval rate from critics on RottenTomatoes.
Rounding out the 10 most-popular movies this week were "The Purge: Election Year" ($11.7 million), "Central Intelligence" ($8.1 million), "Independence Day: Resurgence" ($7.7 million), "The BFG" ($7.6 million), "The Shallows" ($4.8 million) and "Sultan" ($2.2 million).
Related:
'Now You See Me 2' tops Chinese box office