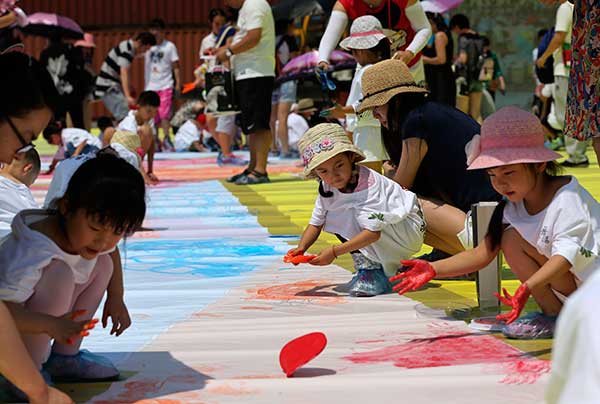 Children paint an Arabian horse on a canvas of 1,200 square meters for the show Cavalia in Beijing.[Photo by Feng Yongbin/China Daily]
Despite more than 50 shows in Beijing, Cavalia is still going strong.
Cavalia is the brainchild of Normand Latourelle, who co-founded the Canadian entertainment company Cirque du Soleil. The show is a blend of equestrian stunts and performing arts like acrobatics, paying tribute to the relationship between horses and human beings.
Since its debut in the capital in April, the extravaganza with more than 40 horses and riders - plus aerialists, acrobats, dancers and musicians - has attracted more than 75,000 people, mostly families, according to Sinocap, the Chinese investment firm that brought the show to Beijing.
To celebrate its 50th show in the capital, more than 200 children between 5 to 12 years old joined to set a Guinness World Record by painting a giant Arabian horse on a canvas of 1,200 square meters at Beijing's Chaoyang Park on June 19.
Comprising three main colors - red, blue and orange - the painting hangs 35 meters above the ground and is an iconic scene at Chaoyang Park, where the show is being staged.
The cooperation between Sinocap and Latourelle's entertainment company Cavalia Inc was described as "groundbreaking" by both Sinocap's CEO, Chen Zesheng, and Latourelle when it was announced in March.
"The partnership is between Cavalia and Sinocap on the operation and commercialization of the show Cavalia, the company's original, eponymous production. The agreement will help Cavalia consolidate its position in China, a key market for touring shows," says Latourelle, an expert with more than 40 years of experience of creating and staging live spectacles.