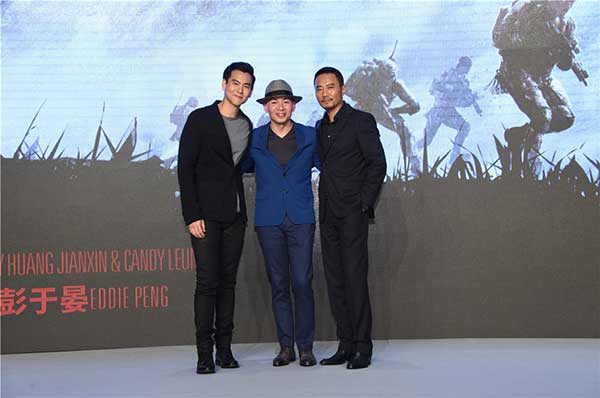 Hong Kong director Dante Lam (center) teams up with actor Zhang Hanyu (right) and Eddie Peng from Taiwan for a promotional event in Beijing.[Photo provided to China Daily]
Yu Dong, the founder of China's leading studio, the Bona Film Group, says he couldn't sleep the night he saw a TV news report about 13 Chinese sailors who were shot and killed on the Mekong River in 2011.
The massacre, which occurred in the Golden Triangle area of the river on Oct 5 that year, saw 13 Chinese crew members of two cargo ships brutally killed by a Myanmar drug-trafficking ring.
Most of the bodies were found blindfolded and handcuffed.
"It was about 13 innocent lives and China's dignity," says Yu about what drove him to make Operation Mekong, the first cinematic adaptation of the incident, while speaking at a promotional event for the film on June 25.
Later that year he called director-producer Huang Jianxin one night and convinced him that a film about the incident would make a good thriller, something not common among mainland titles back then.
Then, there was the question of permission from the Ministry of Public Security to make a film on the subject.
But despite efforts by a number of studios which had shown strong interest in making such a film, the then US-listed Bona beat its rivals.
Speaking about the Mekong massacre at the same event, Zhao Zhongchen, a police officer who had taken part in the investigation of the attack, says the film will give the public a chance to learn about the massacre.
"The war on drugs is a global campaign. We want more media attention and screen productions to show the public the dangers of drugs," he says.
Huang, the film's executive producer, says that the ministry allowed the crew to use real guns and bulletproof vests for filming outside the Chinese mainland, something which has been rarely done in films produced by mainland studios.
Directed by Hong Kong veteran Dante Lam, the film will open in Chinese theaters during the National Day holiday in October.
Chinese actor Zhang Hanyu, known for his role in The Taking of Tiger Mountain, and Taiwan actor Eddie Peng, who has previously worked in two Lam titles, play lead roles in the film.