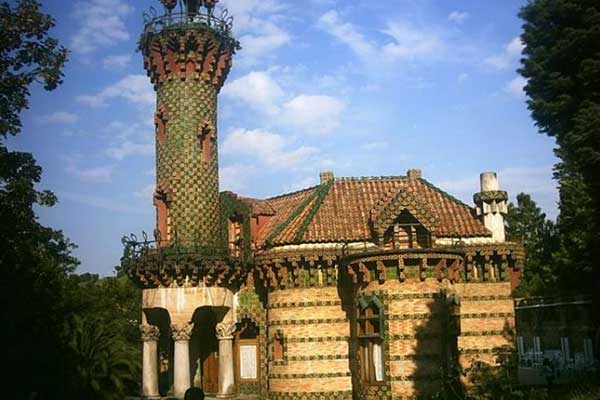 El Capricho de Gaudi, a summer house built from 1883 to 1885 by Gaudi in Comillas, bears the green glaze and brackets that are unique in China's ancient architecture.[Photo provided to China Daily]
Although Spanish master architect Antoni Gaudi never visited China, oriental elements are widely seen in buildings designed by the genius from Barcelona, experts said at the 2nd Gaudi World Congress in Shanghai in June.
Images of Chinese dragons and porcelain and ceramics seen in many of Gaudi's works and Gaudi's philosophy of naturalism are influenced by Chinese culture, says Pere Jordi Figuerola, a historian and expert on Gaudi.
The first Gaudi World Congress held in 2014 in Barcelona saw more than 500 scholars and experts from across the globe discuss the architect's life and work.
At the congress, many experts acknowledged for the first time that Chinese culture had influenced Gaudi.
More research on this was then done following the congress, according to Hou Teh Chien, the man behind last month's congress in Shanghai.
"That's why we organized the second event in China," says Hou, adding that the congress will be held every two years until 2026.
According to research, the images of Chinese dragons, which are seen on Gaudi's buildings, were taken from ancient Chinese coins, which he had access to thanks to his close friend Eduard Toda, who was a diplomat in China from 1876 to 1882.
During his six years in China, Toda collected more than 10,000 Chinese coins, and many had images of Chinese dragons and phoenixes on them.