Feline flavor in architect's furniture designs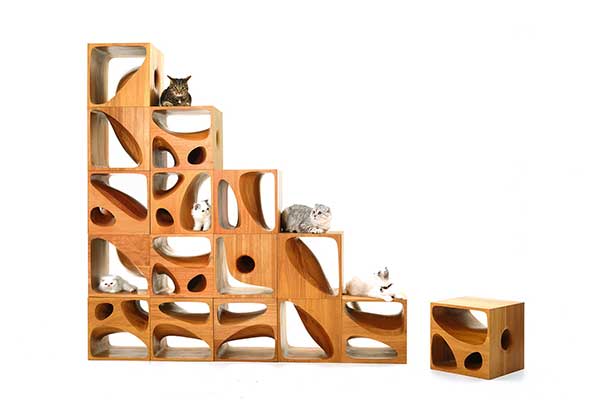 CATable 1.0 and CATable 2.0 are designed by Ruan Hao as a second home for cats, with many in-built crevices in which the pets can play, crouch or sleep.[Photo provided to China Daily]
Architect designs furniture to help you stay close to your pet, Lin Qi reports.
Cat lovers, your beloved fluffy companions could stay by your side while you work, thanks to home furniture designed by Hangzhou-based architect Ruan Hao.
Calling it CATable, Ruan, 30, got a lot of attention when an online video of his concept desk went viral.
Other than serving as a workplace for owners, CATable can become a second home for cats, with its many in-built crevices in which the pets can play, crouch or sleep.
But Ruan doesn't reveal when the CATable will be on the market in China, saying it is a "business secret". His team may also be thinking of a future series of such tables.
"Right now we don't know exactly what we will attempt to create. But we promise that it will be as interesting as CATable."
Ruan, a cat owner who founded LYCS Architecture in 2010, has several awards to his credit for designing schools, commercial compounds and office interiors. The idea for CATable came to him when he was thinking of ways to change the look of a normal table. He wanted to make space for the pleasure of both owners and their cats, and found that adding drawers wasn't the solution.