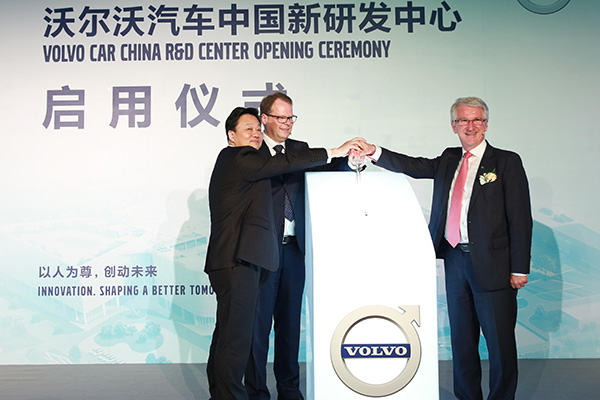 From left, Volvo Car Corp Senior Vice-president Peter Mertens, Volvo Cars China R&D Vice-president Shen Feng, Volvo Cars Asia-Pacific CEO Lars Danielson celebrate the official opening of the Shanghai research and development center on Wednesday. [Photo provided to China Daily]
Volvo Cars is focusing on a new platform in its Shanghai research and development center that officially opened on Wednesday, unveiling the Chinese-owned premium automaker's ambition and capability to surprise the world.
As the first among its international peers, the Swedish company now addresses its core R&D responsibilities on the Chinese mainland.
The 420 million yuan ($65.9 million) Volvo Car (China) R&D Centre is working on a Compact Modular Architecture-based new model.
Volvo Car Corp's senior vice-president responsible for research and development, Peter Mertens, said: "Our R&D has a strong advantage in safety, environment, human-machine interface and Scandinavian design. When (Chairman of Geely Holding Group) Mr Li Shufu said 'release the tiger', we fully took the initiative to make better products."
The CMA is Volvo's second platform after its Scalable Platform Architecture and will be Geely Auto's first universal platform, as it is being jointly developed by both automakers, with all of the technologies shared.
Mertens said: "Our top-notch technologies are fully shared. There is lots of know-how. Volvo and Geely are completely transparent to each other.
"We are the most close to the Chinese market among the premium automakers. We are owned by Geely Holding Group and China is our new home market." As a result, he said, the company considers Chinese demands from the outset of any design process.
Volvo's future 40 series and Geely's next-generation compact models are going to be developed on the CMA platform powered by a new member of the Drive-E engine family, the 1.5-liter 3-cylinder engine. The first model on the new platform is in the development phase.
Volvo Cars Asia-Pacific CEO Lars Danielson said another new high-end model using SPA and powered by the Drive-E engine will be locally produced at the Daqing plant.
Volvo Cars China's R&D vice-president Shen Feng said, "The Drive-E engine family can have varied calibration for four varied outputs up to 450 hp, and it is the world's only module that integrates both gasoline and diesel engines."
The new R&D center, with more than 500 Chinese engineers, is also taking part in the next generation of fuel-efficient Drive-E engines, smart connectivity Sensus and electric systems.
The Chinese team has already been contributing to current models including the Swedish-made SUV XC90 flagship and the Chinese-made S60 L and S60 Inscription sedans.
Chinese customers received the all-new XC90 SUV in June while a total of more than 45,000 orders were placed worldwide.