Young designer makes charming debut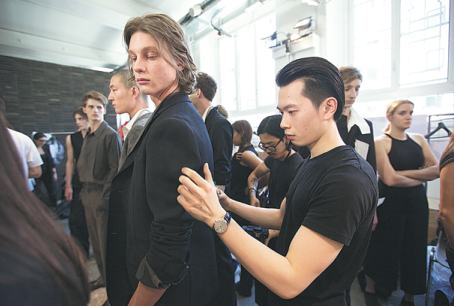 Chinese designer Li Jun prepares a model backstage before presenting his brand's 2017 spring/summer collection during the recent Milan Fashion Week. [Photo/Xinhua]
A charming collection marked the debut of Junli in Milan, where young Chinese designer Li Jun presented his creations for the first time during the official fashion week recently.
"For me, color is always a very delicate issue, because I want something not too obvious," Li says shortly after the show.
"I would say, I have a grading plan-which is for mostly black, white and grey-very simple. But we also have something like a stone color that merges hues together. For the grey, we also have different shades, darker or brighter ones," he adds.
As for silhouettes for the 2017 spring/summer season, Li says: "Garments have to fit the body well, but we also put some volume at the back so that people can move about and be free, and feel comfortable when they wear a jacket."
Li's designs feature a sleek and minimalistic look, which highlights his experimental take on classic menswear tailoring.
In the new collection, he showcased pleated trousers, voluminously cut on the thigh, but tapered toward the bottom. He then paired it with a short blazer, open shirt and T-shirt combo.
For another outfit, a pair of tapered ash-gray culottes were matched with a loosely fitted, elongated vest and blazer, with its sleeves carelessly rolling up to the elbows.
Without fusing, the canvassed pieces were transparent and lightweight.
Tailored for a fitting form, exposed seam was accented in suiting canvas, which is traditionally known as the internal construction of a tailored jacket.
Li says his collection draws inspiration from the works of German artist Anselm Kiefer.
"I would say my collection is not exactly something taken from Kiefer's works, but more from the inside. It is more like taking the mood from his works," he says.
The power to re-create-these are the words used in a statement from Junli to describe the designer's creative spirit.
So, what kind of man should be wearing Junli clothes?
"They are men with a calm attitude, sophisticated-men who know what they want," the designer says.
"My jackets are very tailored. We have some very unique details on them, so it is more like you have to understand who you are. You want to wear something which may look similar to what others are wearing, but you know it is completely different," he says.
Li launched his label after he moved from Shanghai to London to study menswear at the London College of Fashion.
"What I learned is from Western people, but I am Chinese. There is a very oriental soul in me, so when I design I have a more abstract side," he says.
Presently Junli sells at selected boutiques in Europe and China.
Meanwhile, Li's diary for the coming weeks is full.
"I am going to Paris, where we will have our showroom.
"At the start of July, I will return to Shanghai. There I will prepare for the production of this season, and will start doing fabric research for the next season," he says.
"I have opened a small factory in Shanghai. We do all the production in-house now, and as we have a lot of tailored things we have to control production very carefully," he says.
Li's runway show in Milan was part of a new project kickstarted by the Milan-based National Chamber of Italian Fashion, to support a new generation of designers.
Commenting on the collection, the chamber's honorary president Beppe Modenese says: "I found the Junli collection very good, advanced, and with a rigorous but modern style.
"The young talents we have chosen represent the international future of fashion, whose task is to unite people around the world."