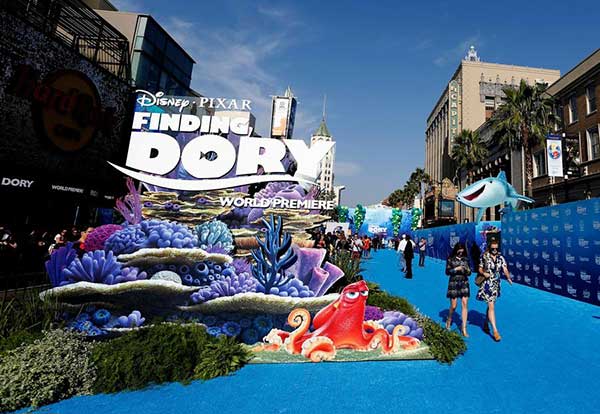 A general view at the premiere of "Finding Dory" at El Capitan theatre in Hollywood, California US, June 8, 2016.[Photo/Agencies]
Disney and Pixar's "Finding Dory" floated atop the North American box offices for the third straight weekend, leaving three new releasing blockbuster far behind.
The animated feature got an estimated 41.9 million US dollars in North America this weekend, adding its total revenue into a sea of 372.2 million dollars over 17 days.
Internationally, "Finding Dory," the sequel to 2003's "Finding Nemo," took in an estimated 34.4 million dollars this weekend, bringing its global total to over 538 million dollars.
Three new movies that had vied to dominate the July 4th holiday were left in the dust.
"The Legend Of Tarzan" finished in second place with an estimated 38.1 million dollars from 3,561 locations through the end of business Sunday, according to comScore statisticians tracking the industry projections.
The 180-million-dollar budget film received an "A-" from first-night moviegoers on CinemaScore. But critics only gave a 35 percent of recommendation on RottenTomatoes. Fifty-one percent of the audience were female and 55 percent over the age of 35.
"The Legend Of Tarzan" delivered an estimated 18.8 million dollars from other 19 international markets for a 56.9 million global opening.
"Purge: Election Year" opened in third place with 30.9 million dollars from 2,796 locations. The three-day performance of the 10-million budget sequel is just a hair over the 29.8 million dollars brought in by "The Purge: Anarchy" two years ago.
Steven Spielberg's Roald Dahl adaption "The BFG" opened in fourth place with a 19.6 million dollars gross. It's not a good result for a film directed by Spielberg and budgeted at 140 million dollars.
"The BFG" got an "A-" CinemaScore from opening day audiences. The audience breakdown was 54 percent female vs 46 percent male.
Rounding out the 10 most-popular movies in the United States and Canada this weekend were "Independence Day: Resurgence" (16.5 million dollars), "Central Intelligence" (12.3 million), "The Shallows" (9 million), "Free State Of Jones" (4.1 million), "The Conjuring 2" (3.9 million) and "Now You See Me 2" (3 million).