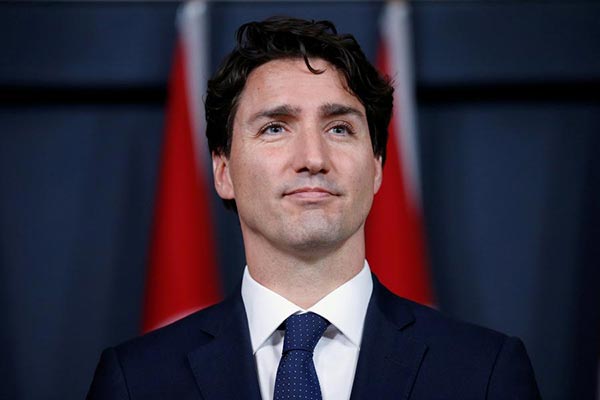 Canada's Prime Minister Justin Trudeau takes part in a news conference in Ottawa, Ontario, Canada, June 22, 2016. [Photo/Agencies]
Canadian Prime Minister Justin Trudeau will join a group of comic superheros to show on the cover of Marvel Comics' August issue.
The premier's office acknowledged the leader's new image in the expected comic book, and said it wouldn't endorse it but was OK with the idea, according to a Tuesday report of the Toronto-based Canadian Press.
Wearing red boxing gloves and a sleeveless top with a red maple in the middle, Trudeau is surrounded by several Canadian comic heros and smiling on the cover of Issue 5 of Marvel's comic book Civil War II: Choosing Sides.
The Canadian premier will feature as an adviser and old boss to a team of traditional stars in Marvel's comic series, said the story writer Chip Zdarsky.
The Toronto-based cartoonist Ramon Perez told the local press that he made a bit of changes to the premier's real-life appearances when drawing his comic pictures in a bid to show "his personality in that likeness."
The new comic book is due to be released on August 31.
The American publisher Marvel Comics has created many well-known superheros such as Spider-Man, Iron Man, Captain America as well as fictional characters as the X-Men.
Related:
DC to introduce Chinese New Super-Man
Marvel directors make major studio foray in Chinese mainland