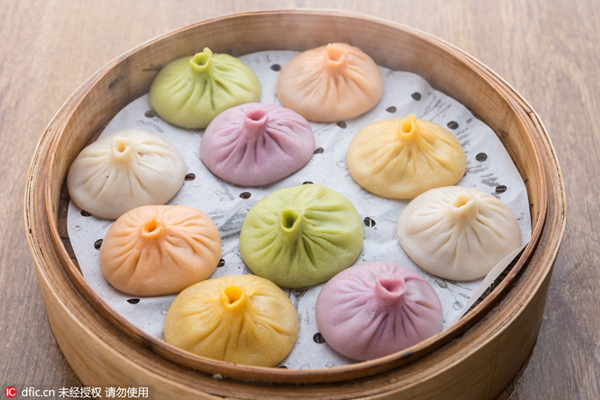 A basket of colorful baozi. [Photo/IC]
Americans have been licking their lips over the Chinese crepe, or jianbing, and now another savory Chinese food– the baozi, or stuffed bun – is about to follow suit.
As reported by the Qianjiang Evening News, "Tom's BaoBao" will open its first chain store at Harvard Square in July and is sure to attract business from nearby universities, including Harvard.
"Our target customers are American citizens, students, rather than Chinese visitors, because university students are more open minded to alien cultures and their foods of course," said Gao Jun, deputy manager of the Hangzhou food company Ganqishi.
"We plan to offer our classic juicy meat baozi, and curry beef baozi. Other than that, we will offer baozi suit for American taste, whose fillings vary from chicken to shrimp," Gao said.
According to Gao, the Harvard Square store is the company's first step entering the US market. The company plans to open 30 chain stores in the US over the next three-to-five years.
Ganqishi's confident plan comes not without reason.
As the biggest Baozi restaurant in Hangzhou, Ganqishi sells more than 200,000 Baozi in its more than 170 chain stores every day, and was the first traditional baozi-producing company to receive big VC funding.
In addition, Hangzhou baozi has also already made a successful debut overseas, suggesting the traditional Chinese food can be profitable in the US. Take Panda Baozi – a smaller baozi restaurant in Hangzhou – opened a store in Dubai in May and instantly became a hit. 
"We open from noon to midnight, and offers only 1,000 pan fried baozi every day – they are always sold out in a few hours," Xiao Cui, Co-owner of Panda Baozi said.
Ganqishi's American plan is obviously more ambitious than that.
In an interview with Hangzhou Daily in May, Ganqishi founder Tong Qihua said expanding into the overseas market was a natural outcome in his plan to make high-quality baozi.
Tong said he spent four years thinking about and learning how to make standard baozi that would be welcomed by all. For example, he says the dough "has to be of the same weight and quality to ensure that a basket of baozi have equally good taste and nutrition."
Tong always tries to keep an above industry level standard. "If other restaurants sell it at 2, I'm going to sell at 2.5," he said.
Asked why, Tong said baozi was not only an affordable food for fueling up, it was also a delicacy.
"My goal is to make baozi respectful," Tong said.