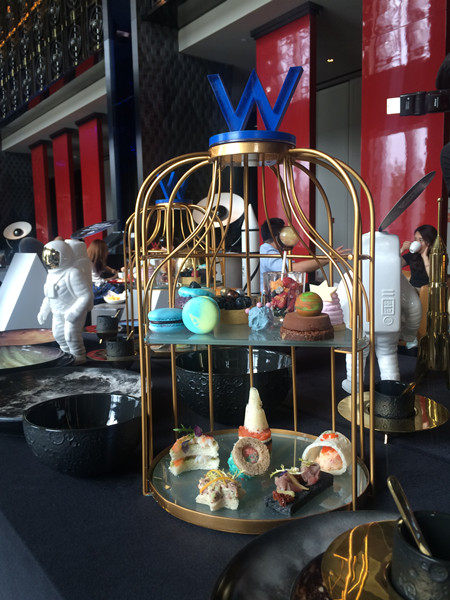 The cosmic afternoon tea set for one is displayed at the lobby lounge of W Beijing Chang'An during a media preview, on June 29, 2016. The three-month themed afternoon tea is available from July 1. [Photo by Jiang Wanjuan/chinadaily.com.cn]
Afternoon tea is often viewed as something to do only once in a while, or for social occasions, rather than to enjoy the food itself.
But, with so many terrible things going on around the world, afternoon tea is one of the things we can turn to slow down and enjoy a bit more "me time". Busy city dwellers are always looking to escape the traffic, noise and busy lifestyle, and here's an easier way to do it.
Designed by the city's trendiest hotel W Beijing Chang'An and iconic lifestyle brand Diesel Living with Seletti, the ready-to-launch cosmic themed afternoon tea offers a taste of space travel.
Golden bird cages, provided by Diesel, are used as the containers, in which all the food is specifically designed to match the brand's cosmic tableware collection.
The blue chocolate ball is like Neptune (while some think it looks like an alien's head), the sugar-free macaroon is a duplication of the galaxy, and the see-through lollipop is a mini copy of the whole solar system.
You may also want to do your homework in advance so you can tell your friends which is Mars and which is Saturn on the displayed plates at the center of the lobby lounge's tables.
Each table is also accompanied by a porcelain spaceman, which you will be surprised to find out is a Diesel flower vase. If you love it, you can buy it from the hotel staff, with 10 per cent off the price.
You may find yourself somewhere between the earth and outer space while enjoying the universal flavors, but you don't need to switch off your phone.
The gourmet space travel costs you 198 yuan ($30) for one and 258 yuan for two, subject to service charge and tax, and is available from July 1 to Sept 30.
If you go:
W Beijing Chang'An, 2 Jianguomennan Avenue, Chaoyang District, Beijing, 010 6515 8855