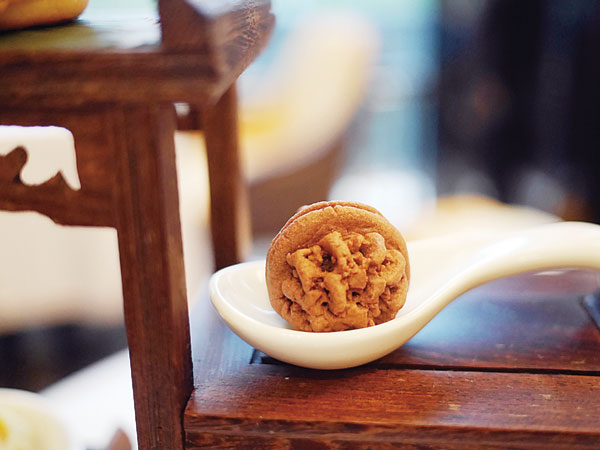 IN A NUTSHELL: Light slightly sweet crusty pastry is skillfully shaped into a walnut. [Photo provided to Shanghai Star]
This is the season for high teas, with dainty cups of fine china and little pastries that appeal to both visual and physical appetites. But there is one high tea with a difference, and Pauline D. Loh finds out just exactly why it is special.
Earl Grey tea and macarons are all very well for the crucial recuperative break in-between intensive bouts of holiday season shopping. And for those who prefer savory to sweet, there is still the selection of classic Chinese snacks called dim sum to satisfy and satiate.
High tea is a meal to eat with eye and mouth, an in-between indulgence that should be light enough not to spoil dinner, but sufficiently robust to take the edge off the hunger that strikes hours after lunch.
The afternoon tea special at Shang-Xi at the Four Seasons Hotel Pudong has just the right elements.
It is a pampering meal, with touches of luxury that make the high tea session a treat in itself.
Whole baby abalones are braised and then topped on a shortcrust pastry shell, a sort of Chinese version of the Western vol-au-vent, but classier. Even classier is the dim sum staple shrimp dumpling or hargow, upgraded with the addition of slivers of midnight dark truffles.