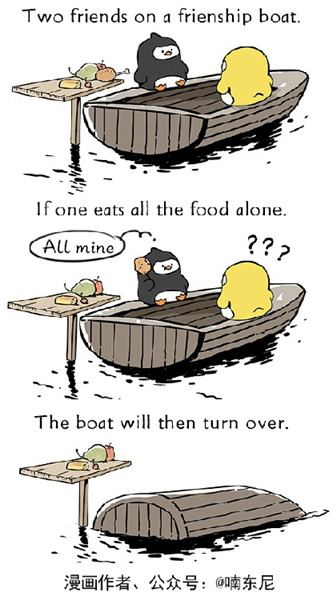 [Photo provided to China Daily]
What's the one kind of boat that can never, ever sink? A friendship.
The joke from the US TV show Friends, a sitcom about the relationships between a group of New York City buddies, is employed in a series of comics that have recently gone viral online in China. But in the new version, the "friend ship" is extremely vulnerable.
In the first comic strip, two penguins sit on either side of a boat. Since one of them has successfully lost weight, the boat overturns as a result of the imbalance, and the friendship breaks up out of jealousy.
The comic, dubbed The Friendship Boat Capsizes Easily by its creator, Nandongni, is so popular among netizens that people from all walks of life have come up with their own variations, expressing the pressures and social faux pas they encounter in daily life.
One version, featuring a penguin doctor and his friend, goes like this:
Friend: Are you free for dinner tonight?
Doctor: Sorry, I have a surgery to do very soon.
Friend: How about tomorrow?
Doctor: No. I am on a 24-hour shift tomorrow.
Friend: How about the weekend?
Doctor: I have to stay in the lab ...
The "friend ship" then overturns.
Nandongni, who has been using the pseudonym since he published the first penguin comic on his WeChat public account on March 31, said he didn't expect it to be so popular.
"I guess it is because most people live under heavy pressures today, and my work offered a template on which they can build, to complain in a funny way," he wrote in a post on WeChat on Thursday.
"With the cute image of the penguins, people are showing their dissatisfaction or grievance in a very friendly way," he said. "It won't really do harm to the friendship."
A painter and a college dropout from Shandong province, Nandongni started drawing comics in 2010. He said he forgot to put his signature on the first "friend ship" and found many of those who used it to create their own versions didn't give him any credit.
He later provided the template online with his signature.
"The little penguins are very happy to learn that they are so popular," he said. "It also made me realize that the awareness of intellectual property among the public is still insufficient at the moment."
Related:
Statues of comic characters at the HK Avenue of Comic Stars