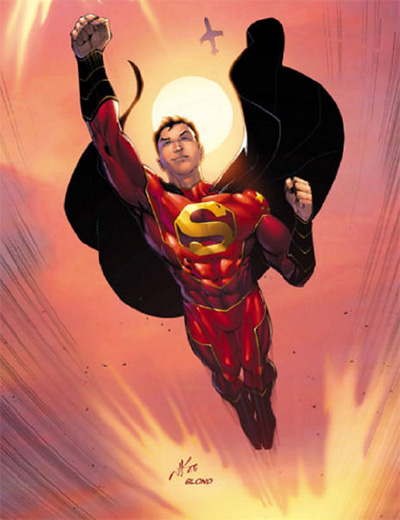 DC Comics' character Kenan Kong. [Photo/Weibo]
Meet DC Comics' first-ever Chinese superhero -- 17-year-old Kenan Kong, a teenager from Shanghai who inherits the powers of Superman.
DC Comics, known for its numerous superheroes including Superman, Batman and Wonder Woman, announced a new edition to the Superman lineup at WonderCon. New Super-Man, written by Chinese-American Gene Luen Yang and illustrated by artist Victor Bogdanovic, will feature a Chinese character for the first time.
"Everybody in the world recognizes Superman," said Yang during an interview. "The reason he transcends culture is that he embodies these ideals that are international, that are cross-cultural. We wanted to tell a story that was about the Superman ideal but tell it in a different culture. Regardless of where you grow up, you know what he stands for."
Details on how the 17-year-old Kong will attain his Superman-like abilities and impact the DC universe of superheroes were not released, but the comic-book publisher did say the process of inheriting powers (and the mantle) will be a struggle.
"Getting those powers, it changes his body obviously, but it also changes his heart," Yang said. "When he starts off, he's kind of a jerk. Once he gets this piece of Superman in him, it will change who he is."
Yang has dealt with the stereotyping of Asian Americans in his previous works, including American Born Chinese and The Shadow Hero. When DC co-publisher Jim Lee and chief creative officer Geoff Johns approached Yang with the idea of an Asian Superman, Yang, the son of Chinese immigrant parents, says it gave him an opportunity to dig into his immigrant experiences and link them with "secret identities" of superheroes.
If you think about it, there are many parallels between superheroes and the immigrant experience.
The original Superman had two different names -- an American name Clark Kent, and a foreign name Kal-El. His birth parents aren't English speakers and sent him to America to have a better life. The scenario indeed parallels the upbringings of many Chinese immigrants who live abroad.
The name Kenan Kong (孔克南) was deliberately chosen as well. The surname was selected to match the surname of Clark Kent, as they both start with the letter k. The ke (克) in Kenan can mean conquer in Chinese, and nan (南) means South, as the teenager is from Shanghai, a southern city in China.
Kong will join a growing group of superheroes of color and different ethnicities. Marvel's current Hulk is Korean American Amadeus Cho; African American Sam Wilson is one of the two Captain Americas; Miles Morales is an Afro-Latino Spider-Man; and the teenage Pakistani American Kamala Kahn is the current Ms. Marvel.
However, according to cultural critic Keith Chow, founder of cultural criticism site The Nerds of Color, only the latter two are strongly associated with their superhero mantles.
In an interview with NBC News, Chow said his hopes for Kong is that he will be "not just a character that shows up for a couple of issues and disappear. Having a talent like Gene gives me hope that that's the case."
Yang is hoping for the same. "I'm hoping he finds a place in the DC universe, I'm hoping he finds a place in the hearts of DC comics fans."
How things will turn out are in the hands of fans.
Related:
Batman v Superman rules China's box office
Penguin friends rock the boat in viral comics