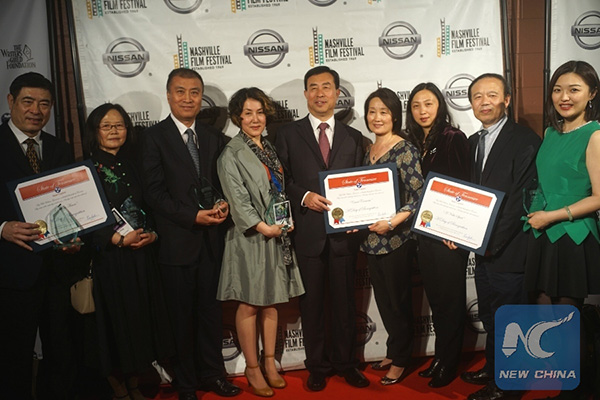 Chinese filmmakers pose for pictures at the closing ceremony of Nashville Film Festival. [Photo/Xinhua]
A glamorous RV painted with Gibson guitars arrived at Nashville International Airport this week, waiting to pick up not another rock 'n' roll band, but a delegation of Chinese film producers and industry bigwigs.
They came to Nashville, the famed Music City in the southern state of Tennessee, to attend the annual film festival, bringing six feature films to the "Spectrum China" section and potential opportunities for co-production and distribution deals for film markets across the Pacific.
"The organizers of the festival wanted to make us feel like being a celebrity in the country music capital of the United States," said Yang Yubing, president of Shanghai Sanyuan Movie & Television Co. Ltd.
During their three-day visit, the Chinese filmmakers were greeted with what they called "Southern hospitality," as they attended receptions hosted by local officials, visited state-of-the-art studios and held discussions with industry executives on potential cooperation projects.
At the closing ceremony of the festival on Friday night, they walked the red carpet and posed for pictures with the festival's organizers, before bringing home the Governor's Award amid the thundering cheers of celebrities and guests in the VIP tent.
"We are so excited to have this delegation from China," Ted Crockett, executive director of Nashville Film Festival, told Xinhua. "As an international film festival, it is important for us that we have a program that reflects all of the different cultures as much as possible."
The six Chinese films shown at this year's festival are all art-house productions that feature the life of China's ethnic groups, Ming Zhenjiang, head of the delegation and executive chairman of China Film Producers' Association, told Xinhua, adding that they were selected in particular because of the festival's emphasis on independent films and cultural diversity.
"The festival is a good platform for us to promote Chinese culture and showcase the country's soft power as well as to learn from America's top-notch filmmaking techniques," Ming said.
One of the Chinese films, A Noble Spirit, which is based on an actual event, tells the story of a village chief working in harsh conditions on the Tibetan plateau.
"It told a good story," movie buff Jimmy Mitchell said after watching the film. "I like it because he had to make a tough decision between family and helping others."
In recent years, China's film market has been growing rapidly and is second only to the United States. The box office in China reached over $6 billion last year, up an astonishing 48.7 percent from 2014.
Noting the fast growth in China's film market, Crockett is thrilled by the potential co-production deals the high-level delegation could help hammer out, especially those on family-friendly projects that he thinks are well-received in different cultures.
"If you come up with a story that is told well, I think everyone will relate to it and the cultural barriers will go away," he said.
The Nashville Film Festival, originally established in 1969, ran from April 14 to 23 this year. It attracted 6,500 entries from 125 countries and showed 271 films, including 99 features.
Bob Raines, executive director of Tennessee Entertainment Commission, said both Tennessee and China have a very unique talent in storytelling, and the state government is very supportive of working with China in creative industries.
"China has a warm and compassionate culture, and so is the state of Tennessee," Raines told Xinhua. "We are very compassionate about what we do. We are all story-tellers. I think that's what binds us together."
Ming, whose association brings together nearly 200 Chinese state-run and private film companies, also had a positive outlook on the collaboration between filmmakers in China and the southern cultural hub of Nashville.
Unlike major studios in Hollywood, Nashville focuses on low or medium-budget independent films, which are also the main body of cinematic work China produces, Ming told Xinhua. "This provides a common ground where we can explore potential cooperative opportunities," he said.
But he also pointed out that as Hollywood big-budget releases have grabbed the lion's share of foreign movies screened in China every year, it remains very difficult for independent films to enter Chinese theaters.
China adopts a quota system that restricts foreign movie imports to 34 titles a year, but co-productions, which are regarded by China as domestic films, are not subject to the quota.
American film producer Kelly Frey envisions US and Chinese filmmakers working together to produce internationally acclaimed films.
"The American culture is very new from a Chinese perspective. China has taken a very long-range approach in filmmaking," Frey told Xinhua. "What I would like to do is to marry the two."
Related:
The Jungle Book gets second weekend box office win in North America
Argentine film Paulina closes Beijing film festival with top award