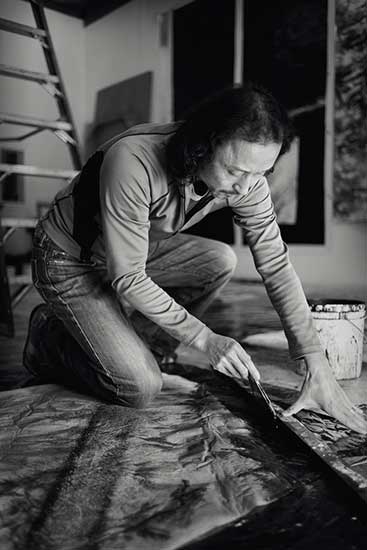 Abstract ink artist Zheng Chongbin at work.[Photo provided to China Daily]
When accessing ink artist Zheng Chongbin's website, you see an animated front page on which ink is poured over a sheet of white paper, achieving the three-dimensional effect of Chinese ink-and-wash painting.
For four decades, the Chinese-American artist, 55, who divides his time between his native Shanghai and California, has used ink as his main object to create art. But he was not satisfied with limiting his vision to ink merely as a painting material.
His current solo exhibition, Zheng Chongbin: Structures, at a Sotheby's space in Hong Kong shows how he has gone beyond classical Chinese ink art, pushing its boundaries.
In his abstract ink paintings, Zheng uses white acrylic paint and creates an uneven surface on a piece of paper, engaging ink in a play of light and space.
Zheng was trained in a traditional way: He learned calligraphy in childhood and was imparted the discipline of classical Chinese painting in his college, China Academy of Art, in Hangzhou, East China's Zhejiang province.
"It is a process in which one gets to understand how to control oneself and then how to let go," he says.
"When one is able to achieve that state, the inner feelings and the external embodiment of consciousness finally fuse together," he adds.
After graduation he joined the teaching staff of his alma mater and began experimenting with ink art. He first got rid of the traditionally delicate, detailed lines he had perfected for years, looking instead for an abstract presentation that emphasized how the texture and the structure of ink could vary.
Looking for more breakthroughs, Zheng then went to San Francisco Art Institute in the late 1980s, when he began studying performance art, installations and video.
The Californian sunlight and the "light and space" movement of the 1970s both influenced him greatly, enabling him to introduce the exploration of light and space in his ink creations.