Coca-Cola's new Yunnan plant signals commitment to sustainable growth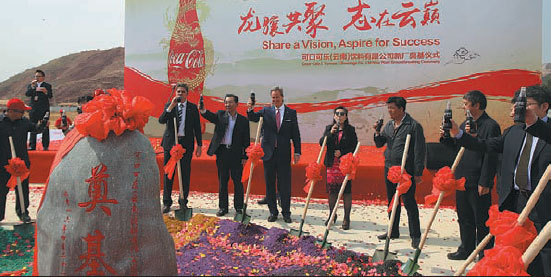 Coca-Cola executives and local officials at the groundbreaking ceremony for the new Yunnan plant. Provided To China Daily
Coca-Cola (Yunnan) Beverage Co Ltd began construction of a new eco-friendly plant in Kunming, Yunnan province, on April 21.
The new facility will replace a plant currently in operation in the provincial capital of Yunnan, tripling the number of bottling lines from four to 12, the company said.
According to the company, the new plant represents a $185 million investment and is part of the Coca-Cola system's current $4 billion investment plan, which began in 2015 and will continue through 2017. This builds on the $9 billion of investment made in China between 1979 and 2014, and underscores the Coca-Cola Co's strong confidence in the Chinese market and its business growth in the southwestern region.
Coca-Cola's new Yunnan plant is located in the Majinpu New Town Industrial Base in the Kunming National High-Tech Industries Development Zone and covers an area of 195,632 square meters.
Upon completion, the plant will deliver an annual capacity of 423 million unit cases of beverage, with both sparkling and still products, including such brands as Coca-Cola, Sprite, Fanta, Ice Dew and Ice Dew Chunyue, to fulfill the fast-increasing demand from 47 million consumers in Yunnan province, the company said.
Coca-Cola said construction work at its new Yunnan plant adheres to green building standards with regard to a wide range of considerations, including site selection, building environment, water-saving, energy-saving, air protection, material and resource utilization, indoor environment quality and design innovation.
The plant will strictly enforce the international certification system requirement of the Silver Certification of Leadership in Energy and Environmental Design, a green building certification program of the US Green Building Council that recognizes best-in-class building strategies and practices.
Upon completion, the plant will add to Coca-Cola's number of modern and environmentally friendly green plants.