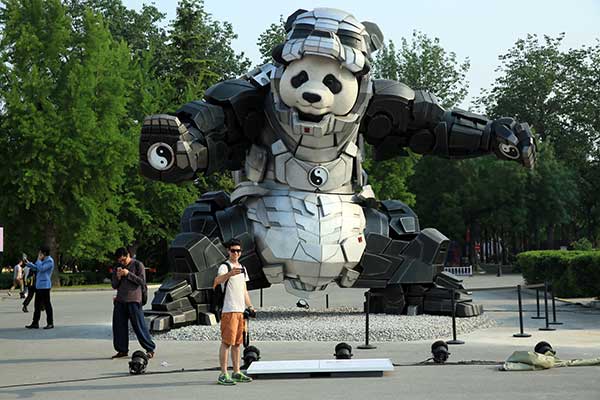 Art Beijing drew more than 80,000 visitors last year, not just from the art world but also ordinary citizens.[Photo provided to China Daily]
Since its launch a decade ago, Art Beijing has strived to be both a dynamic platform for fine art and a holiday destination where families can have fun. Lin Qi reports.
The founder of one of China's long-standing and leading art fairs, Dong Mengyang compares Art Beijing to a superstore where people from different walks of life can find things they like and make discoveries that will broaden their vision of fine art.
Since the launch of Art Beijing in 2006, the Beijinger in his mid-40s, has wanted the event not to be a typical contemporary art fair that is too fancy or upscale and scares people away. Rather, he wanted it to become a dynamic platform for art and a holiday destination where families can have fun.
The fair is held annually from April 30 to May 3 at the National Agriculture Exhibition Center, coinciding with the May Day holiday.
His plan of "serving the people" has proved to be a successful strategy.
Statistics from the Beijing-based Art Market Research Center show last year's fair drew more than 80,000 visitors. There, 98 percent of the 140 galleries and art institutions that participated sold works with 60 percent of the deals done at prices ranging from 100,000 yuan ($15,385) to 200,000 yuan.