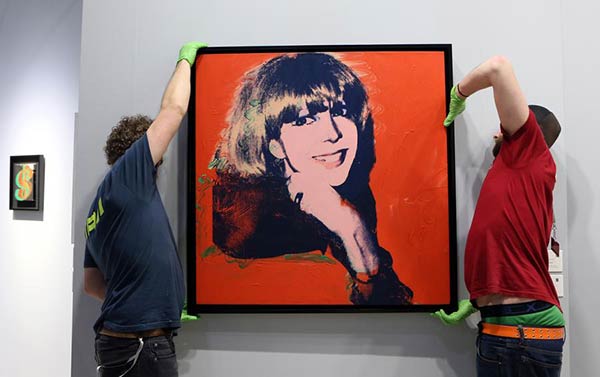 Staff members set up a creation of Andy Warhol at the Art Basel in Hong Kong, March 24, 2016. A total of 239 galleries from 35 countries and regions attended the 3-day Art Basel in Hong Kong this year. [Photo/Xinhua]
Wealthy Chinese are splashing big on foreign art pieces in recent years, marking a trend in art collecting becoming a major portion of their global assets.
During the just concluded Art Basel Hong Kong, many wealthy Chinese from the mainland nabbed contemporary pieces from all over the world with prices ranging from tens of thousands to millions of US dollars. This is a great cause of excitement for art galleries and artists, and David Zwirner Gallery from USA is already looking to locate a branch in Hong Kong, according to 21st Century Business Herald.
In recent years, Chinese moguls like Wang Jianlin, Wang Zhongjun and Liu Yiqian are splashing money in purchasing European art masters' works, including those by Pablo Picasso and Amedeo Modigliani, which has aroused the art world's attention.
The 21st Century Business Herald says that the scene makes people think of the time in the mid-80s when wealthy Japanese were pursuing masterpieces of the Impressionists. At that time, Japan's economy reached its peak with its cars and machines exported worldwide. The Japanese yen appreciated all of a sudden and lots of Japanese people went abroad and traveled overseas. Wealthy people and enterprises also splashed out abroad to purchase art pieces.
Today's China is quite like Japan at that time. But the problem is, after that, Japan's economy had been in recession due to the bursting of the asset bubble, and the art market broke too. Will China experience a similar situation, or avoid the decline?
Well, China is different from Japan in three main aspects. First, China has a much larger population which means a huge domestic market. Second, China has more a diversified and multi-leveled industrial system. Third, China has many resources and a powerful government which may save the dangerous situation caused by an asset bubble if it happens.